Great Pumpkin Commonwealth Q&A
October 21 & 22, 2023
1–2 p.m. | At the Garden
This year's winning giant pumpkins from the Great Pumpkin Commonwealth weigh-offs will be on display at NYBG October 21–31.
Meet the Giant Pumpkin Growers
October 21: 1 & 3 p.m.; October 22: 1 p.m.
Meet the growers of these giant pumpkins and stay for deseeding demonstrations, conversations on the pumpkins' growth, and more!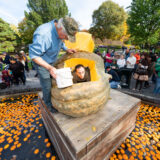 See the Giant Pumpkin growers in action!