Pumpkin Carving Face-Off
October 8, 2023
11 a.m.–3 p.m. | At the Garden
See head-to-head pumpkin carving with the pros
Now in its third year, join us for our annual carving competition hosted by Adam Bierton. Three master carvers go head to head to create imaginative pumpkin faces, shapes, and more—and we let you be the judge!
Top Carver:
A Master Pumpkin Carving Face-Off
Sunday, October 8; 11 a.m.–3 p.m.
Reflecting Pool

See three of the region's best carvers put their skills to the test in an afternoon pumpkin carving competition that brings out the ghouls and ghosts in these much-loved gourds.
Carver lineup to be announced by September 15.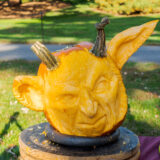 Pumpkin Carving with Adam Bierton
Saturday, October 7; 11 a.m.–2 p.m.
Reflecting Pool

Watch as amazing pumpkin faces and designs emerge from pumpkins of all shapes and sizes with master carver Adam Bierton.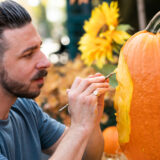 Take a Peek at Last Year's Pumpkin Carving Face-Off
First Place: Lenny Calvin
Participants: Alan Silva and Lincoln Bias