Giant Pumpkin Carving Weekend
October 27–29, 2023
10 a.m.–6 p.m. | At the Garden
Autumn icons, larger than life!
In its second year, Adam Bierton returns for the Fall-O-Ween season finale to carve a giant pumpkin. From last year's 2,424-lb. pumpkin, a dragon's head emerged after 16 hours of scraping, chiseling, carving, and detailing. This year, Adam Bierton and a team of carvers return to once again transform a giant pumpkin sourced by the Great Pumpkin Commonwealth into an organic masterpiece.
Learn more about these gargantuan fruits here, and be sure to share your carving ideas on social with #GiantPumpkinsNYBG—we just might choose yours for this year's giant carve!
Look back at the 2022 Giant Pumpkin Carve
Pumpkin: 2,424-lb. grown by Pete Caspers of Iowa
Carvers: Adam Bierton and Lenny Calvin, the 2022 NYBG Top Carver Winner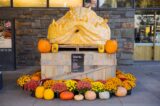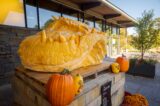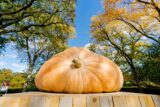 See the Giant Pumpkins from Years' Past!