Fall-O-Ween
Through November 12, 2023
Various Times | At the Garden
Make NYBG your pumpkin headquarters this fall! The tricks and treats of the season come to life with plentiful pumpkins, gourds, and ghouls—and all sorts of fun-filled activities to celebrate this season of frights and foliage! Day or night, there's something for everyone as we offer special weekends of pumpkin parades and pumpkin carving face-offs, as well as the return of our popular beer sampling weekend, Bales & Ales! Evening events give kids (and adults!) the chance to show off their Halloween costumes in New York City's most beautiful landscape, while you can savor the flavors of the season with artisan demos, food and drink talks, and so much more as autumn in the Bronx brings vibrant color to your backyard.
While you're here, don't miss your opportunity to capture picture-perfect fall photos at the Reflecting Pool and on the adjacent lawn, where you'll find hundreds of pumpkins and gourds of all shapes, sizes, and colors!
Your Pumpkin Headquarters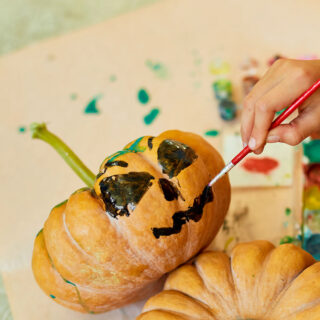 September 16, 17, 23, 24, 30; October 7, 8, 14, 15, 21, 22, 28 & 29
12 – 3 p.m.
Mosholu Solar Pavilions
On select weekends, pick up a free mini pumpkin to paint whimsical jack-o'-lanterns or ghoulish pumpkin goblins right at the Garden—or to take home to decorate later. Stop by NYBG Shop to purchase the perfect harvest and Halloween décor to complete your visit.
Pumpkin Decorating is on a first-come, first-served basis while supplies last.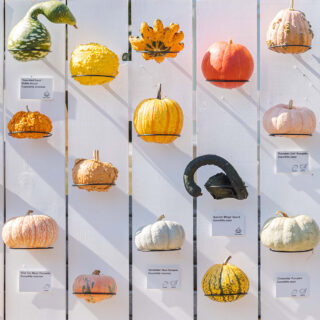 September 16–October 29, 2023
Leon Levy Visitor Center & Garden Grounds
As guests enter through the Visitor Center, they'll be greeted with a fall display beginning with the fan-favorite Pumpkin Wall on the Shop Lawn and an autumnal display in the Reflecting Pool including mums, apple crates, pumpkins, and more.
The Reflecting Pool will serve as Adam Bierton's Carving Headquarters throughout the season.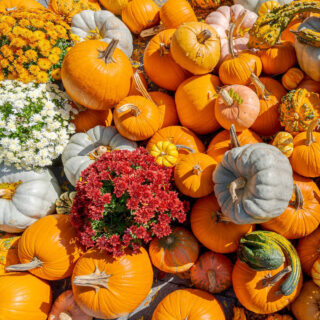 September 16–November 12, 2023
NYBG Shop
This year at NYBG Shop, visitors can come to the Garden's "pumpkin patch" to pick and purchase their own pumpkin to take home.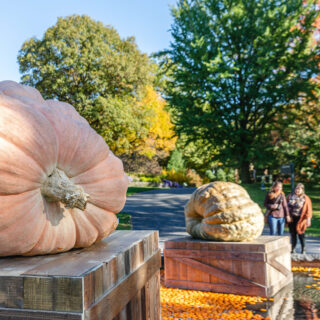 October 21–29
Reflecting Pool

They're gigantic, they're orange, and you won't believe that they're actually real! Explore this year's crop of award-winning giant pumpkins from growers around the country.
Come visit these extraordinary pumpkins, and see one transformed by expert pumpkin carver Adam Bierton on October 27–29. Be sure to share your carve ideas with #GiantPumpkinsNYBG—Adam might just choose yours!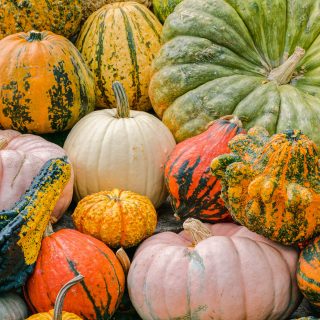 Learn about some of the many pumpkin varieties to be found at NYBG this fall, from decorative gourds in fascinating shapes to the best pumpkins to use for pie and more!
Flavors of Fall: Artisan Demonstrations
October 7, 8, 14, 15, 21, 22, 28 & 29; November 4, 5, 11 & 12; 12–3 p.m.
Visitor Center
Savor your favorite fall flavors with tastings and demos that celebrate the season's bounty and their fascinating botanical backgrounds.
Participating partners include:
Harvest Corn with XOLO Yonkers
September 16; November 4 & 5
The husband-and-wife team behind XOLO creates a variety of plant-based treats that celebrate their Mexican heritage and culinary backgrounds. Sample a seasonal vegan pozole (corn stew) in honor of Hispanic Heritage Month on September 16, or stop by for colorful tacos using seasonal fall ingredients on November 4 & 5.
Pumpkin Spice Granola with Sahadi's
October 7 & 8
Since its opening in 1895, the Sahadi name has become well-known across the five boroughs as a destination for bulk imported spices, fresh and preserved specialty foods, catering, gifts, and events – an old-world place to try new flavors. Enjoy samplings and more featuring recipes from Sahadi's new cookbook, Flavors of the Sun, which earned a 2022 Julia Child Book Award.
Pumpkin Spice Honey Butter with Boogie Down Bronx Honey
October 14 & 15
The Flynn family behind Boogie Down Bronx Honey brings "Da Flava of the Bronx" to our fall harvest season with the ultimate pumpkin-spice infused honey butter. Locally crafted from Bronx bees across 12 different hives, their products have been featured in The New York Times, News 12, HypeBeast, and – most recently – in a Timbaland "Built for the Bold" marketing spotlight on beekeeper AJ Flynn.
Apple Tasting Spotlight with Plant Candy
October 21 & 22; November 11 & 12 
Apple season is upon us, and vegan chef Brandy Cochrane from Plant Candy will be onsite to celebrate with a twist on our favorite apples. Conduct a taste-test to learn which apples work best for your favorite fall dishes, and learn more about creative ways to integrate plant-based foods in your diet without sacrificing flavor or fun.
Spiced Pumpkin Soup with Kris Da Bronx Vegan
October 28 & 29
Before you visit the giant pumpkins, sample a savory plant-based soup from vegan chef Kristen Loudermilk, owner and operator of Bronx staple Kris Da Bronx Vegan! Kris is a Bronx native and has dedicated her work to community involvement and health promotion. She started her business in 2020 with the goal to provide food access to her community and combat food injustices.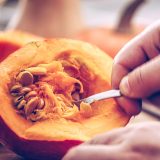 Experience Fall Foliage at its Finest
Explore the largest remaining expanse of New York's original wooded landscape as the Thain Family Forest's seasonal transformation takes hold. Stay tuned for the fall color cam to follow the changing leaves.