Pumpkin Carving
with Adam Bierton
Weekends in September & October
12–3 p.m. | At the Garden
September 16, 17, 23, 24 & 30
October 1, 7, 9, 14, 15, 21, 22, Giant Pumpkins Weekend 27, 28 & 29

Fall fun is just a borough away!
Fan-favorite artist Adam Bierton returns to the Garden with his carving tools in tow, ready to turn pumpkins of all shapes and sizes into frightening and fantastical beasts! Bring the family to watch one of the country's most skilled and imaginative pumpkin carvers work his magic, while getting tips and tricks on how to step up your own jack-o'-lantern game at home.
What Should Adam Carve?
We want to hear YOUR best ideas for this year's Giant Pumpkin Carving Weekend with Adam, October 27–29, where he'll be carving one of the country's biggest pumpkins into a monstrous masterpiece.
Use #GiantPumpkinsNYBG to share your ideas for this year's grand finale carving on social, and follow along with the Fall-O-Ween fun on Instagram, Facebook, and Twitter.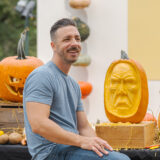 Insider Tips from Master Carver Adam Bierton
Check back here each and every weekend through the end of October to see what monstrous and imaginative designs Adam has carved, and pick up new tips and tricks from the master for creating the ultimate jack-o'-lantern at home. Of course, the best way to experience Adam's ghoulish gourds is to see his work in person right here at NYBG—your Pumpkin Headquarters this fall!
How to Pick the Perfect Pumpkin
Three Styles of Pumpkin Carving
Top Household Carving Tools
Top Professional Carving Tools
How to Scoop Your Pumpkin
How to Carve Your Pumpkin
How to Make Pumpkin Eyeballs
How to Preserve Your Pumpkin
Learn More from Adam Bierton
Adam Bierton is a professional sculptor and pumpkin carver based in New York, most famously known for his 3D pumpkin carvings and his season five win of the popular Food Network series Halloween Wars in 2015.
Instagram TikTok YouTube Website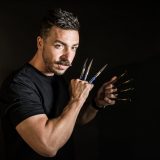 Follow along each weekend
See Adam crafting ghoulish gourds at NYBG!