Holiday Train Show®
Saturday, November 20, 2021 – Sunday, January 23, 2022
10 a.m. – 6 p.m.
THE EXHIBITION IS NOW CLOSED

New York City's Favorite Holiday Tradition is Back!
This beloved tradition returns for its 30th year with a miniature wonderland in the warmth of the Enid A. Haupt Conservatory. Marvel at model trains zipping through an enchanting display of more than 175 famous New York landmarks—imagine the Statue of Liberty, Brooklyn Bridge, Rockefeller Center, and other favorites—each delightfully re-created from natural materials such as pine cones, acorns, and seeds.
You'll also discover a showcase of our very own New York Botanical Garden buildings such as the iconic Haupt Conservatory and—new for this year—the majestic LuEsther T. Mertz Library Building, both designated New York City landmarks.
Explore the Show
Learn more about the landmarks, trains, and artistry behind 30 years of the Holiday Train Show®.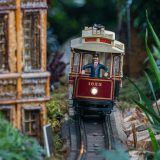 NYBG GLOW
25 Select nights, November 24, 2021–January 22, 2022
This holiday season, let it GLOW at The New York Botanical Garden. Discover the beauty of our landmark landscape and historic buildings after dark, breathtakingly illuminated with a newly expanded 1.5-mile colorful experience.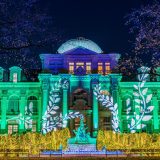 Read All About It
See what media outlets had to say about the Holiday Train Show over the years.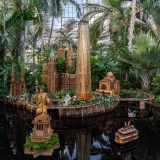 Bloomberg Connects App
Explore the Holiday Train Show and NYBG GLOW on the free Bloomberg Connects App. Download now and engage with exclusive content, audio tours, plant images, and more.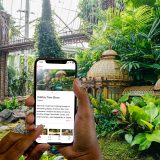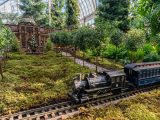 G-scale trains zip past New York City landmarks.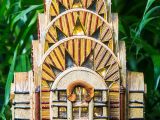 Look closely to find enchanting details on favorite NYC landmarks such as the Chrysler Building.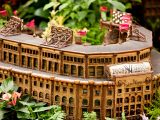 See Yankee Stadium and other longtime favorites from the Bronx and beyond.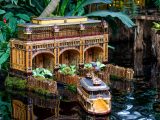 See the Battery Maritime Building—a recent addition to the collection.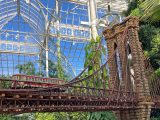 Look up to see trains crossing along iconic bridges.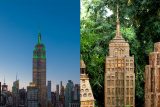 The Empire State Building defines the New York City skyline and our miniature one in the Holiday Train Show. Materials include: gourd, pine cone scales, palm fronds, bamboo, birch bark, and banana stem.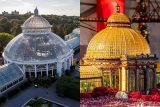 While the Enid A. Haupt Conservatory is made of iron and glass, its replica's materials include pine cones, acorn caps, bamboo, and mahogany and lotus seed pods.
Exhibition Sponsors: