Holiday Train Show®
and NYBG GLOW
Save these Dates:
Patron & Member Pre-Sale Begins September 28
Public Tickets on Sale October 5
Holiday Traditions Begin at NYBG

NYBG's Holiday Train Show®—a favorite holiday tradition—is back for its 30th year! See model trains zip through an enchanting display of more than 175 New York landmarks, each delightfully re-created from natural materials such as birch bark, lotus pods, and cinnamon sticks. On select dates, start a new holiday tradition as day turns to night with NYBG GLOW. Explore our festively illuminated landscape during these special evenings that feature music, dance, food, and more, making for the perfect night out this season.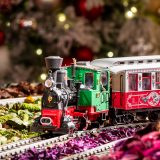 All Aboard for the Return of the Holiday Train Show®
November 20, 2021–January 23, 2022
This beloved tradition returns for its 30th year with a miniature wonderland in the warmth of the Enid A. Haupt Conservatory. Marvel at model trains zipping through an enchanting display of more than 175 famous New York landmarks—imagine the Statue of Liberty, Brooklyn Bridge, Rockefeller Center, and other favorites—each delightfully re-created from natural materials such as pine cones, acorns, and seeds.
You'll also discover a showcase of our very own New York Botanical Garden buildings such as the iconic Haupt Conservatory and—new for this year—the majestic LuEsther T. Mertz Library Building, both designated New York City Landmarks.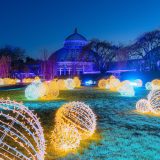 NYBG GLOW
An Outdoor Color and Light Experience
25 Select nights, November 24, 2021–January 22, 2022
This holiday season, let it GLOW at The New York Botanical Garden. Discover the beauty of our landmark landscape and historic buildings after dark, breathtakingly illuminated with a newly expanded 1.5-mile colorful experience.
These lively nights return for their second year at NYBG with more displays to wander through and explore. See NYBG's iconic sights and buildings come to life as dramatic, glittering canvases with the Haupt Conservatory and Mertz Library Building as the centerpieces. Washes of brilliant color, thousands of dazzling LEDs, illuminated plant stories, and whimsical, picture-perfect installations reflect the surrounding gardens and collections—creating a spectacle not to be missed!
Round out your experience with an after-dark visit to the Holiday Train Show® under the glow of the Haupt Conservatory by purchasing a special combination ticket. Enjoy a drink, hot cocoa, and a bite to eat at one of our outdoor bars or the Bronx Night Market Holiday Pop-Up. And take in even more festive evening offerings with artistic ice sculpting, music, and pop-up performances around the Garden.
Start a new holiday tradition with NYBG GLOW!
Save these dates: November 24, 26, 27; December 2, 3, 4, 9, 11, 16, 17, 18, 23, 26, 27, 28, 29, 30; January 1, 6, 7, 8, 14, 15, 21, 22
Take a Look at Past Years' Shows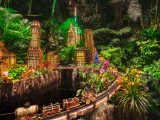 Prior exhibitions showcased the Empire State Building, Chrysler Building, General Electric Building, and St. Bartholomew's Church, recreating the iconic Midtown Manhattan skyline in the Conservatory.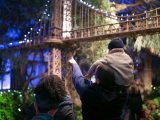 Pass under detailed botanical replicas of famous New York City bridges as you explore the Holiday Train Show after dark.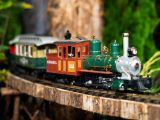 G-scale trains zip through magical displays.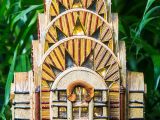 Look closely to find enchanting details on favorite NYC landmarks such as the Chrysler Building.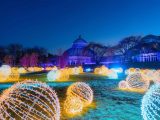 The Garden comes alive with light and color after dark as NYBG GLOW kicks off.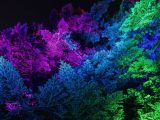 Colorfully illuminated trees at NYBG GLOW
Exhibition Sponsors: