Holiday Train Show®
& NYBG GLOW
Save The Date:
Patron & Member Pre-Sale Begins September 13
Public Tickets on Sale September 15
Holiday Traditions Begin at NYBG – Over 30 Years of the Holiday Train Show® and NYBG GLOW, NYC's Largest Outdoor Holiday Light Experience, Expands for Its Third Year

NYBG's Holiday Train Show®—a favorite holiday tradition—has been making memories in NYC for over 30 years! See model trains zip through an enchanting display of more than 190 replicas of New York landmarks, each delightfully re-created from natural materials such as birch bark, lotus pods, and cinnamon sticks. On select dates, start a new holiday tradition as day turns to night with NYBG GLOW. Explore our festively illuminated landscape during these special evenings that feature music, dance, food, and more—making for the perfect night out this season.
All Aboard for the Holiday Train Show®
November 19, 2022–January 22, 2023
Enjoy the Holiday Train Show® during the day or at night with an after-dark visit under the glow of the Haupt Conservatory; see all of your favorite buildings light up at night by purchasing a combo ticket to the Holiday Train Show and NYBG GLOW, and enjoy a drink, hot cocoa, and a bite to eat at one of our outdoor bars or the Bronx Night Market Holiday Pop-Up.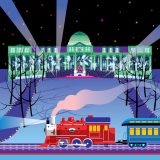 NYBG GLOW: An Outdoor Color and Light Experience
November 18–19, 23, 25–26; December 2–3, 9–11, 15–17, 22–23, 26–30, 2022; January 1, 7, 14, 2023
This holiday season, NYBG GLOW returns for its third year. Discover the beauty of our landscape and historic buildings after dark, breathtakingly illuminated across the Garden.
Building upon sold-out evenings the past two years, NYBG GLOW expands across even more of the Garden's magnificent collections, including an all-new glowing water feature display in the Native Plant Garden. And take in our fun-filled evening offerings with artistic, music, and pop-up performances around the Garden.
Start a new holiday tradition with NYBG GLOW!
Composite rendering of NYBG GLOW in the Native Plant Garden, new for 2022.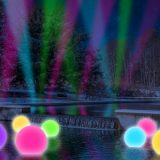 Check Out Last Year's Show!
Exhibition Sponsors: