Holiday Train Show® Dining
Indulge in the comforting flavors of the holiday season at NYBG! Sit down for a festive farm-to-table meal in the cozy Hudson Garden Grill dining room, or swing by the Pine Tree Café to choose from a variety of quick, family-friendly fare that's sure to please even the pickiest palate. Then warm up at our cheery Spruce Bar with a warming cup of our signature hot chocolate, curated cocktails, and sweet and savory snacks.
At the Garden, there's holiday cheer in every bite!
Hudson Garden Grill Holiday Fare
No visit to NYBG is complete without a meal at our renowned farm-to-table restaurant, the Hudson Garden Grill. Savor seasonally inspired dishes and decadent desserts made from locally sourced, ethically produced ingredients.
During the week, make a reservation for lunch:
Tuesday–Friday; 11:30 a.m.–3 p.m.
Weekends and holiday Mondays; 11:30 a.m.–6 p.m.
While celebrating the evening during NYBG GLOW and Bar Car Nights, make your winter outing complete with a sit-down dinner reservation at the Hudson Garden Grill—or enjoy seasonal desserts and cocktails on the patio.
Full Winter Menu Dining; last reservation at 7:45 p.m.
Select from a variety of inviting sweets at our dessert bar and warm up with inspired holiday cocktails and beverages inside the patio tent, open from 6–10 p.m.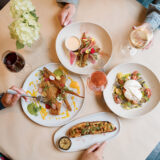 Pine Tree Café
There's something for everyone at the Pine Tree Café! Our family-friendly menu ranges from seasonal panini and rustic, Neapolitan-style pizza to delicious signature salads, drinks of all sorts, plus holiday-themed sweet treats and snacks for all ages.
Daily; 10 a.m.–6 p.m. (opens at 9 a.m. on weekends, November 24, and December 26–29)
NYBG GLOW and Bar Car Nights; Open until 10 p.m.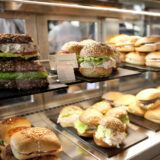 Spruce Bar
Visitor Center Patio
Grab a quick snack or beverage from our outdoor venue, with offerings including warm pretzels, corn dogs, hot chocolate, cookies, and a full bar with festive signature cocktails to celebrate the holidays.
Don't miss our specialty cocktails for the holidays!
WINTER APPLE – buttered bourbon, local apple cider, lemon, cinnamon-infused syrup
SNOW DROPS – Vanilla-infused vodka, horchata, infused cinnamon-vanilla syrup