About the Holiday Train Show®
Saturday, November 17, 2018 – Monday, January 21, 2019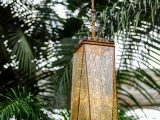 One World Trade Center soars as the newest addition to the exhibition.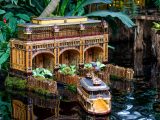 See the Battery Maritime Building in our new spotlight on Lower Manhattan.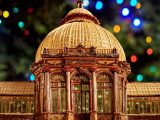 See the recently re-envisioned Haupt Conservatory lit up for the holidays.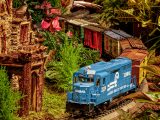 Familiar, G-scale model trains make the rounds among the landmark replicas.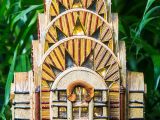 Look close for well-known details on structures such as the Chrysler Building.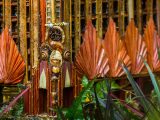 Replicas are created from natural materials such as leaves, seeds, and bark.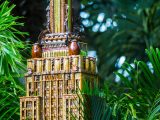 Iconic parts of the New York City skyline, like the Empire State Building, find a home in NYBG's Haupt Conservatory.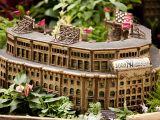 A Bronx neighbor to NYBG, Yankee Stadium can be found lit up for a game in the Haupt Conservatory.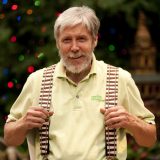 About the Artist
What one may see as just a piece of bark or a fallen berry, Holiday Train Show® creator Paul Busse envisions as stone on the Brooklyn Bridge or an ornament on St. Patrick's Cathedral.
On a walk through the woods on his property in Alexandria, Kentucky, where he and his wife, Margaret, run their design company Applied Imagination, he and the artists on his team inevitably bring back some interesting tidbit that can be used in crafting one of his magical displays.
Paul's reputation as a designer of wondrous landscapes built around trains and structures made from plant parts took off when he mounted the first Holiday Train Show® for The New York Botanical Garden in 1992. Since then, he has produced special exhibits for many other venues around the country; his current work can be viewed here.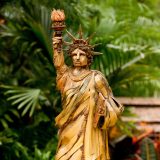 About the Landmarks
The enchanting setting of the Enid A. Haupt Conservatory showcases more than 175 scaled iconic buildings and structures such as the Brooklyn Bridge, Yankee Stadium, and the Statue of Liberty under thousands of twinkling lights. Step into a miniature city where famed New York architecture is recreated using bark, leaves, and other natural materials.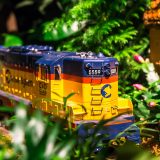 About the Trains
Look for more model trains than ever before, with nearly a half-mile of track hosting over a dozen large-scale model railway locomotives. Don't forget to look up as you explore—NYC bridges come together to create an aerial display of trains soaring overhead!
Inside the Holiday Train Show
Enid A. Haupt Conservatory
Explore the hard work that went into creating NYBG's own Enid A. Haupt Conservatory, a challenging replica that makes the most of light and translucent materials.
Get an inside look at the making of this year's newest addition to the Holiday Train Show's collection of landmark replicas, and an unmissable sight on the Lower Manhattan skyline—One World Trade Center.
Take a peek at some of the whimsical landmarks in one of our more recent additions to the Holiday Train Show, Coney Island.