About the Holiday Train Show®
Saturday, November 17, 2018 – Monday, January 21, 2019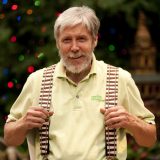 About the Artist
What one may see as just a piece of bark or a fallen berry, Holiday Train Show® creator Paul Busse envisions as stone on the Brooklyn Bridge or an ornament on St. Patrick's Cathedral.
On a walk through the woods on his property in Alexandria, Kentucky, where he and his wife, Margaret, run their design company Applied Imagination, he and the artists on his team inevitably bring back some interesting tidbit that can be used in crafting one of his magical displays.
Paul's reputation as a designer of wondrous landscapes built around trains and structures made from plant parts took off when he mounted the first Holiday Train Show® for The New York Botanical Garden in 1992. Since then, he has produced special exhibits for many other venues around the country; his current work can be viewed here.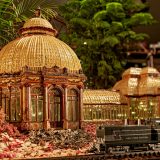 About the Landmarks
The enchanting setting of the Enid A. Haupt Conservatory showcases more than 150 scaled iconic buildings and structures such as the Brooklyn Bridge, Yankee Stadium, and the Statue of Liberty under thousands of twinkling lights. Step into a miniature city where famed New York architecture is recreated using bark, leaves, and other natural materials.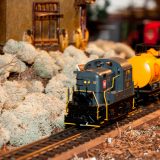 About the Trains
Look for more model trains than ever before, with nearly a half-mile of track hosting over a dozen large-scale model railway locomotives. Don't forget to look up as you explore—NYC bridges come together to create an aerial display of trains soaring overhead!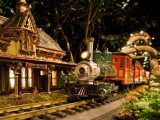 Nearly a half-mile of track makes this a memorable annual exhibition for young and young at heart.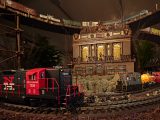 G-scale trains take over the Conservatory in a festive display of models past and present.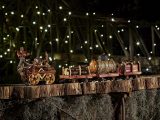 From recognizable locomotives to creative trains made from natural materials, there's something for every train lover.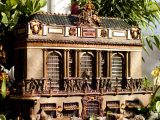 Look for New York's famed Grand Central Terminal, with its iconic statues and larger-than-life windows.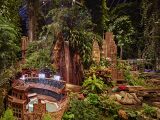 A Bronx neighbor to NYBG, Yankee Stadium can be found lit up for a game in the Haupt Conservatory.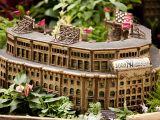 A Bronx neighbor to NYBG, Yankee Stadium can be found lit up for a game in the Haupt Conservatory.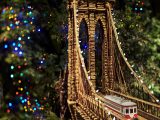 Look up! The familiar arches of the Brooklyn Bridge can be seen overhead, with subway trains and historic trolleys passing by.