The Food Dialogues: A Conversation with Von Diaz and Maricel Presilla
July 23, 2021
11 a.m. EDT
The foods of Puerto Rico, Cuba, and other Caribbean islands with a Spanish colonial past are a culinary and cultural hybrid of Indigenous, African, Spanish, and American ingredients and techniques. The stories they tell reveal a creative response to a complex colonial history. Storyteller/journalist Von Diaz and food historian/chef Maricel Presilla explore these cuisines, their history, and how their culinary cultures divulge their past in a conversation moderated by scholar and author Dr. Jessica B. Harris.
Puerto Rican-born, Atlanta-raised Von Diaz explores food, culture, and identity as a writer, documentary producer, and the author of Coconuts & Collards: Recipes and Stories from Puerto Rico to the Deep South. Her work has been featured in The New York Times, The Washington Post, Bon Appétit, Food & Wine, and numerous cookbooks and anthologies. She has also been a reporter for NPR, StoryCorps, WNYC, and the Southern Foodways Alliance. She teaches food studies and oral history at the University of North Carolina, Chapel Hill.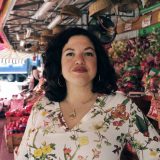 Maricel Presilla, Ph.D., is an award-winning author, culinary historian, chef and restaurateur, and a widely recognized expert on Latin American cuisines, capsicums, cacao, and chocolate. Her magnum opus, Gran Cocina Latina: The Food of Latin America, was the James Beard Foundation's 2013 Cookbook of the Year. Actively engaged in public speaking, she has lectured and conducted tastings at NYBG, including Islamic food and agriculture for the Spanish Paradise: Gardens of the Alhambra exhibition and capsicums of the Americas for programs on tropical edibles. She is founder and Americas Director of the International Chocolate Awards, the largest independent fine chocolate competition in the world.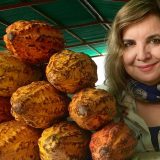 Jessica B. Harris, author of 12 critically acclaimed cookbooks, is celebrated as America's leading expert on the food and foodways of the African Diaspora. She has lectured on African American food and culture across the U.S. and abroad, and her work has appeared in numerous publications. Among her awards and accolades are the 2020 James Beard Lifetime Achievement Award, an honorary doctorate from Johnson & Wales University, and the DeMasters Award from the Association of Food Journalists. For Black History Month 2021, People magazine highlighted Dr. Harris as an inspiring trailblazer in her field.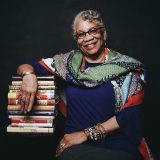 Presented by the Humanities Institute and supported by The Andrew W. Mellon Foundation