Earth Day Celebration
April 20–22, 2018
The Orchid Show closes with an Earth Day celebration that highlights NYBG's central work to save the plants of the world. Meet NYBG scientists and students to learn how they collect, study, and conserve plants and fungi, from the Bronx to Brazil. Join behind-the-scenes tours of the Plant Research Laboratory, where cutting-edge studies probe plants' molecular mysteries. Participate in the Open House of the Steere Herbarium to view myriad historic and modern preserved plant specimens not normally on public view.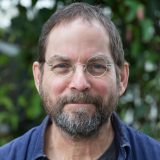 Managing the Wild: Stories of People and Plants and Tropical Forests: A Talk with Dr. Charles Peters
Friday, April 20; 11 a.m.–12 p.m.

Kick off the Earth Day Celebration with a lecture NYBG's Charles Peters as he discusses his new book.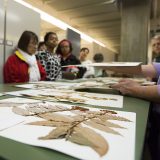 Engage with Plant Research & Conservation
Enjoy films, talks with scientists, and opportunities to go behind the scenes in one of the world's largest herbarium collections.
Herbarium Open House
Saturday & Sunday, April 21–22; 12–3 p.m.
Steere Herbarium
The Steere Herbarium opens its doors and gives a unique viewing to see how plant specimens are prepared, digitized, and used for research and conservation purposes. You will see an enormous variety of herbarium specimens, ranging from truffles to peanuts to palms. Herbarium staff will be on hand to provide interpretation and answer questions.
The Scientist Is In
Saturday & Sunday, April 21–22; 12–4 p.m.
Conservatory Plaza
NYBG has over 30 scientists working in both the lab and field. Stop by the booth for an opportunity to meet a rotating pool of botanical experts.
Animated Film Screenings: Tree of Life
11 a.m. – 5 p.m.
Ross Hall
View a 15-minute animated film for all ages explaining the interconnected relationship between all organisms.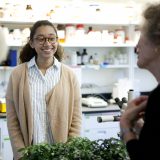 Tours
Explore indoor wonders with in-depth tours of NYBG's Plant Research Laboratory and the landmark Conservatory.
Conservatory Tours
Friday, April 20; 2 & 3 p.m.
Meet in the Palm Dome
Get an in-depth look at the Enid A. Haupt Conservatory's permanent collection from a scientist's point of view.
Laboratory Tours
Saturday & Sunday, April 21–22; 12 & 2 p.m.
Meet in the Plant Research Laboratory lobby
Walk through the Garden's state-of-the-art laboratory and meet some of the scientists who lead teams studying DNA and genomes in order to understand plants, fungi, and algae at their most essential levels.
Hitachi TM4000 PLUS Tabletop Scanning Electron Microscope Demonstrations
Saturday & Sunday, April 21–22; 1 & 3 p.m.
Meet in the Plant Research Laboratory lobby
Explore the lab's newest piece of user-friendly technology, and learn how it helps researchers see images on the cellular level.
Space on tours is limited; first-come, first-served.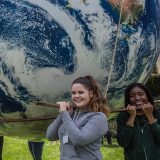 Family Fun
Family-friendly activities throughout the weekend invite everyone to join in the celebration.
Spring Fun
Friday, April 20; 1:30–5:30 p.m.
Everett Children's Adventure Garden
Explore the unfolding wonders of the spring season! Investigate amazing sights and sounds of spring inside the Discovery Center using science tools, then go outside to hunt for evidence that plants and animals are awakening from their winter slumber. Craft your own seed sprouting tray to observe at home!
Earth Ball on Display
Saturday & Sunday, April 21–22
Conservatory Lawn
Debuting in 2017, the Earth Ball is back for another Earth Day Celebration. Come snap a pic with the Enid A. Haupt Conservatory as the backdrop.
Kids Count!
Saturday & Sunday, April 21–22; 11 a.m.–4 p.m.
Everett Children's Adventure Garden
Learn about a teen-led, three-season project to document leaf, flower, and fruit development in native plants growing in the Adventure Garden. Go out to observe the pussy willow and add your own data to their work!