Oral History: Kadeesha Williams
Kadeesha Williams Introduction
Interview Date: July 29, 2022
Profession: Gardener & Farmer
Birthplace: Bronx, New York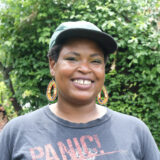 Kadeesha (Kitty) Williams was born in 1987 and raised in the Highbridge section of the Bronx. From an early age, Kadeesha was exposed to both her mother's activism and her grandfather's involvement in Taqwa Community Farm, which inspires what she sees as intertwined passions for community gardening and community activism in the Bronx. After graduating from college and working for several years in New York's gardening and farming community, Kadeesha became the community horticulturalist/urban agriculturist for Bronx Green-Up.
When the pandemic emerged in 2020, Kadeesha was instrumental in the creation of the Bronx Community Farm Hubs network with Bronx Green-Up, which laid the foundation for her and several colleagues from the New York Botanical Garden to start the Iridescent Earth Collective in Upstate New York. Their goal was to provide fresh produce to communities in need, and in their very first year, they were able to do that.
Kadeesha continues to see gardening and farming as essential to physical, emotional and spiritual wellbeing. She also continues to develop and refine what she and others call the urban-to- rural continuum, strengthening relationships between collectives and farms upstate and consumers in New York City in order to build the resiliency and strength of these intertwined communities.
Kadeesha Williams
Full Length Video