Oral History: Marie Brooks
Marie Brooks Introduction
Interview Date: July 14, 2022
Profession: Teacher's Assistant, Garden Advocate, Retired
Birthplace: Belize City, Belize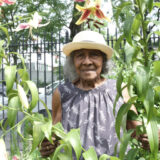 Marie Brooks was born in Belize City in 1933. She grew up in a large family as the oldest of eight children and was primarily raised by three strong women—her mother, aunt, and grandmother. Her family lived along a river and had a small garden where they raised chickens and grew fruit trees, herbs, and flowers. Her family's lifestyle enriched their daily meals where family would get together to enjoy fresh rice cooked in coconut milk, fish like red snapper or kingfish, and fruits like plums, mangoes, and grapes. She spent time with her siblings and friends outdoors playing marbles, hopscotch, or "make-believe," and when she got older, climbing trees to harvest fruits.
At the age of 21, she left Belize City to migrate to the United States, eventually settling with her husband in the Claremont Village of the Bronx. Her consistent engagement and love for the children at the local school led her to become a teacher's assistant—a role that she retained for many years.
After her husband's passing, Ms. Brooks sought ways to connect to her community and enhance her neighborhood. It was during this time that Ms. Brooks noticed that the empty lot across the street was full of garbage and construction debris. She joined a block association to clean up the lot and in 1993, led a partnership with organizations like NYC Parks GreenThumb and Bronx Green-Up, to establish what is now Jackson Forest Community Garden. Ms. Brooks' childhood in Belize deeply influenced this Bronx community garden, which continues to be a central place for gathering, activities, and green space. In 1998, the garden was saved from being auctioned.
Ms. Brooks has continuously been a fierce advocate for the garden, particularly during the time the garden was threatened with auction as well as in later years to ensure needed capital improvements to the garden were completed. In January 2020, Miss Brooks asked Ms. Harris to take on the leadership of the garden.
Marie Brooks
Full Length Video