Plant Talk
A Nest of Red-Tailed Hawks Fledges for the Fifth Year
Patricia Gonzalez is a Visitor Services Attendant at The New York Botanical Garden and an avid wildlife photographer.
---
For the fifth year in a row, a resident pair of red-tailed hawks has nested on our Garden's beautiful grounds. There are now three young, scrappy additions to their ever-extending family.
The drama began in early March when I was posted at the Mosholu Entrance. A visitor brought to our attention that he spotted a hawk building a nest. It made several flights in to its prospective new home, bringing branches each time. I asked the visitor where this was and was surprised at the location!
When my shift ended, I headed on down to the area and was shocked to see the hawks constructing a new home for their future brood. For four years straight, their nest was deep within the Garden, away from prying eyes, secured close to the trunk at the center of a tree; a safe spot. On the contrary this new nest was in an open area, in full view of the public, anchored to branches extended far from the trunk and susceptible to high winds.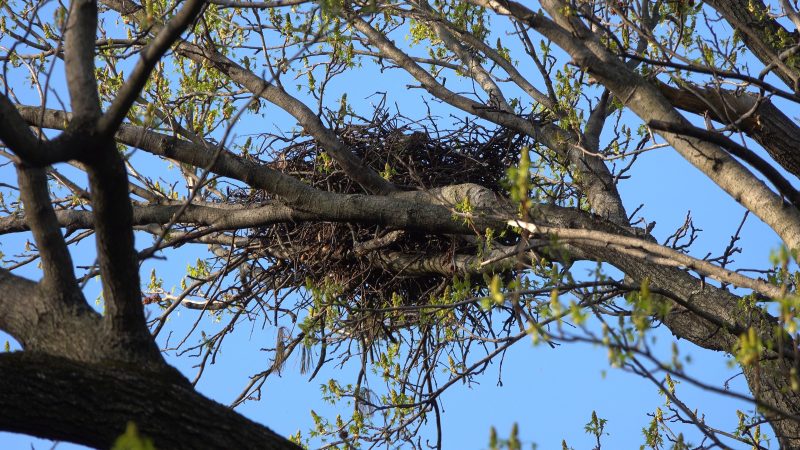 After months of crossing my fingers, I breathed a sigh of relief in early May when I spotted a tiny, fluffy head peering out into the world. Two more little ones would eventually join their sibling, and not long after they fledged in early July. During this time, staff were treated to watching them explore the Garden grounds without a care in the world. New family, new home, and another successful addition to the Garden's diverse resident wildlife. Life is good.
SUBSCRIBE
Enter your email address to subscribe to this blog and receive updates on new posts.