Plant Talk
COVID-19 Impacts on Biodiversity Science Collections
Lawrence M. Kelly, Ph.D., is Associate Vice President of Science Administration and Susan E. Lynch Director of Graduate Studies at The New York Botanical Garden.
---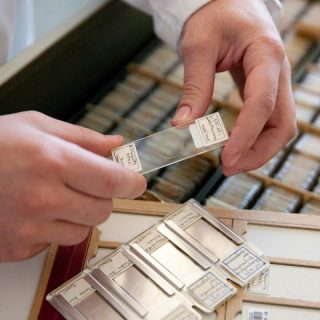 The William and Lynda Steere Herbarium is one of many biodiversity collections that collectively house more than one billion scientific specimens in more than 1,600 institutions across the United States. These collections hold a tremendous amount of data, and they support research and education in many scientific fields. They are found in natural history museums, botanical gardens, university-based research centers, field stations, and at government agencies. Biodiversity collections are represented by a very active group of advocates, and Barbara Thiers, Ph.D., NYBG's Vice President for Science and Patricia K. Holmgren Director of the Steere Herbarium, plays a leadership role in the activities of this group.
Following the widespread shutdown in response to the COVID-19 pandemic, the Biodiversity Collections Network (BCoN) conducted a survey to assess the effects of disruptions and closures on biodiversity research and education collections. The survey was coordinated by several collections advocate groups, including the Society for the Preservation of Natural History Collections (SPNHC), of which Dr. Thiers serves as president. BCoN summarized the results of the survey in a report, "Covid-19 Impacts on Biodiversity Science Collections,"released in May.
"We thought it was important to get a snapshot of how collections and associated staff were affected by the rather sudden shutdown of operations, and the response to the survey was tremendous, with more than 390 individual responses," said Dr. Thiers. "We also hoped to identify needs faced by the community that we could address through community action. The survey revealed that many collections were being monitored by personnel who are not familiar with collections disaster preparedness procedures, which is disturbing but also rather easily addressed through communication. We are working to encourage collections to take the steps necessary to make sure that first responders to emergencies such as floods, fire, etc., are fully versed on collection stabilization measures in such situations."
Results from the survey include the following:
96 percent of natural history collections were unavailable for use in April.

Most of the scientific collections reported some regular monitoring of resources, but less than 30 percent were being monitored for pests—a significant threat to collections.

More than 90 percent of respondents were working from home, mostly on some aspect of data transcription based on specimen images captured prior to the shutdown.
When asked about chief concerns arising from a one- to three-month closure:
Just under 64 percent were worried about their ability to provide vital research resources;

Just under 49 percent were worried about a loss of funding for collections care materials and supplies;
Just over 47 percent were concerned about their ability to provide outreach opportunities for the public;
Nearly 47 percent were concerned about the loss of staff because of budget cuts;
43.5 percent were concerned about their ability to meet existing grant and contract deadlines.
The Biodiversity Collections Network plans to conduct follow-up surveys to understand the effects of budget reductions that collections may experience and the impact of COVID-19 prevention measures on scientific collections management and research productivity.
These are difficult and uncertain times, with COVID-19 impacts ranging far and wide and, in many cases, still unknown. It is very reassuring that the most active and informed natural history collections experts are working together to closely track the effects of the pandemic on the collections that form the backbone of biodiversity research and that NYBG is playing an important role in this effort.
Listen to an episode of the podcast BioScience Talks from the American Institute of Biological Sciences, featuring NYBG's Dr. Barbara Thiers in a discussion about how natural history collections can be leveraged in the era of COVID-19 to enable important scientific discoveries, here.
You can find other recent news related to NYBG science here.
SUBSCRIBE
Enter your email address to subscribe to this blog and receive updates on new posts.