Plant Talk
NYBG Holiday Celebrations Through the Years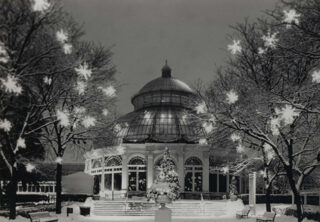 The holidays are a special time at NYBG. The magic of the season spreads as frost covers the landscape and the falling snow makes the trees shimmer. This time of year also brings memories of winters past, which have made the Garden's holiday exhibitions beloved traditions in New York. The Holiday Train Show is in its 30th year in 2022, with a long history of bringing enchantment to children and adults alike.

In fact, the artists of Applied Imagination, who construct the botanical architecture, have been with the show since the very beginning. New buildings and fine details are always being added, but at its heart, the Holiday Train Show remains a treasured NYBG classic. And although NYBG GLOW is only in its third year, lights have always been a festive feature during the holidays.
NYBG ensures that the holidays are extraordinary. In 1988, the Haupt Conservatory held a Christmas event with 30-foot Balsam trees surrounding the space, a decorated tree, 5,200 poinsettias, and topiaries in the shapes of various animals, such as kangaroos, lions, camels, and more.
As 2022 comes to a close and we take this last month to celebrate, scroll through some images from the LuEsther T. Mertz Library's photography collection to reflect on the traditions of NYBG, and those you've made and shared with your loved ones.







SUBSCRIBE
Enter your email address to subscribe to this blog and receive updates on new posts.