Plant Talk
Yokohama Nursery Catalogs
Stephen Sinon is the William B. O'Connor Curator of Special Collections, Research and Archives, at the LuEsther T. Mertz Library of The New York Botanical Garden.
---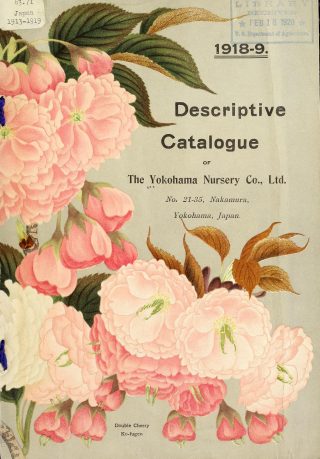 Yokohama Nursery was founded in 1890 by Uhei Suzuki and three other nurserymen in Yokohama as a pioneer in modern horticulture in Japan. That same year they opened an office in San Francisco. In 1893 they presented the first bonsai exhibit to Westerners at the World's Columbian Exposition in Chicago. They exhibited some 40 maple varieties and 150 iris varieties within the first Japanese garden constructed in America. They opened a branch in 1898 in New York and in 1907 in London. In 1912 they were responsible for the shipping and planting of the cherry trees in Washington, D.C.'s Tidal Basin. But Japanese militarism and Japan's invasion of China began to undermine it. Japan became seen as not just as a trade rival but an imperial one. And of course everything came to a sudden halt in 1939. All their overseas branches were shut and none reopened after the war. Their plant listings were drastically reduced. After the war, the company was reorganized and refinanced. It is still in existence today.
After the Meiji government was installed, they reversed centuries of resistance to change by inviting hundreds of European and American specialists to Japan to upgrade every aspect of commercial and industrial life, and help the country enter the world of international trade. One of those invited was a German nurseryman, Louis Boehmer.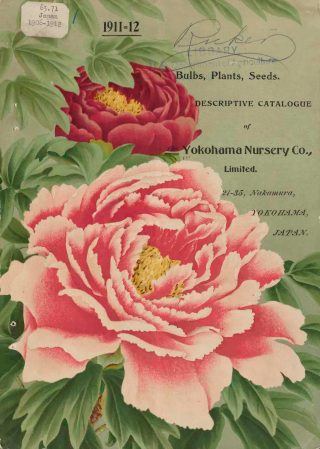 Boehmer had emigrated to the United States in 1871 and founded a nursery at Rochester, New York. He arrived in Yokohama in 1872 and ran an experimental farm before being sent to the northern island of Hokkaido to improve agriculture and horticulture, and in the process set up the Sapporo brewery which is still making excellent beer. By 1882 he was back in Yokohama running an independent nursery that specialized in exporting Japanese plants, particularly bonsai trees, to the West. He retired in 1890 and sold the business to his assistant Alfred Unger who continued to run it under the Boehmer name. At the same time one of Boehmer's Japanese staff, Uhei Suzuki, left and set up Yokohama Nursery in competition.
The Yokohama Nursery Company took their retail catalogs upmarket with beautiful woodblock illustrations to entice the reader and these became its trademark for several decades. They also realized early on that because many of the plants they were selling were new to the Western market, fairly comprehensive cultural and background information had to be included. In addition to the plants, they offered bulbs, seeds, and even a wide range of decorative porcelain flower pots, lanterns, and other decorative objects for the garden and greenhouse. These handsome full-color catalogs would continue right through until the mid-1920s, although they moved from just woodblock prints to also include colored plates, line drawings, and photographs of classic Japanese garden plants. They often ran to over eighty pages in length.
SUBSCRIBE
Enter your email address to subscribe to this blog and receive updates on new posts.