Farming in the Concrete Jungle: Ben Flanner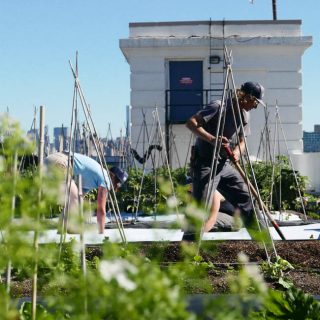 Co-founder of Brooklyn Grange, the world's largest rooftop soil farm, Ben Flanner shares his insights about the future of urban agriculture and what it takes to run a commercial farm on manufactured land. Located on three roofs in New York City, the farm grows over 80,000 pounds of organic produce per year, serves as an event space and education center, and offers green roof consulting and design/build services.
An industrial engineer with experience in management consulting, Ben Flanner is widely considered to be a groundbreaking pioneer for adapting existing green roof technology for intensive vegetable cultivation. Prior to starting Brooklyn Grange, he co-founded Eagle Street Rooftop farm and lectures regularly about urban agriculture around the world.