Chorus of the Forest by Angélica Negrón
November 2 & 3, 2019
1 & 3 p.m.
Don't miss the debut of this interactive choral experience
Join us for the premiere of NYBG Composer-in-Residence Angélica Negrón's newly commissioned, site-specific work for chorus and soundscape in the Thain Family Forest. At a time when giving a voice to trees is more urgent than ever due to climate change and deforestation, this interactive choral experience explores humanity's relationship with the forest in a world increasingly dominated by technology.
The performance will consist of five musical vignettes, able to be explored in any order and from any direction, featuring robotic and percussion soundscapes designed by Ms. Negrón and instrumentalist Nick Yulman. Vocalists from numerous NYC choral groups including Choral Chameleon, Downtown Voices of Trinity Wall Street, Young New Yorkers' Chorus, and Celia Cruz High School will provide vocal harmonies and lyrics that examine our connections—and disconnections—with nature.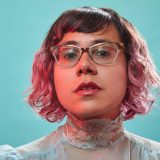 About the Composer
Angélica Negrón is a Puerto Rican-born composer and multi-instrumentalist who writes music for accordions, robotic instruments, toys, and electronics as well as chamber ensembles and orchestras.