Evergreen Express
November 17, 2018–January 21, 2019
Guided Activities:
Weekdays; 1:30–5:30 p.m.
Saturdays & Sundays; 10 a.m.–5:30 p.m.
The Everett Children's Adventure Garden gets into the holiday spirit with train-inspired fun!
Every day, kids can hop aboard our play train and pretend to ride the rails! Hike winter trails and find evergreen trees and shrubs. Warm up in the Discovery Center while learning more about amazing evergreen plants. Make a festive evergreen swag bundle to brighten up your home.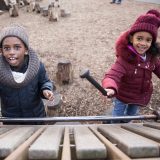 Weekend Fun
Weekends bring even more fun with sing-alongs and special holiday programming.
Play Train
Pretend to ride the rails aboard our child-sized play train and caboose!
Woodland Puppet Theater
Many animals are active in winter at the Garden! Tell the story of how they survive at the outdoor puppet theater using our bird, mammal and plant puppets.
Mount a Conifer Sample
Discover how to preserve an evergreen sample-just like the scientists at NYBG! Prepare a herbarium mount at the Garden to start your own collection at home.
Discover Evergreen Trees and Cones
Evergreens are so amazing! Investigate samples of evergreen tree branches and cones to learn more about how these plants stay green all winter long. Then go out into the Children's Garden to use your scientist skills to identify evergreens growing outside.
Design an Evergreen Swag
Cultures throughout the world have brought plants and plant parts into their homes to bring cheer during the short days of winter. Children can design a bundle of evergreens wrapped with a bow to hang on a door or in a window to bring the scents and colors of evergreens into their own homes.
Craft a Cone Critter
Cones come in many shapes and sizes! Use a cone to craft a cute woodland critter with glue, felt and fun google eyes.
Bilingual Birdies at NYBG!
Discovery Center
Saturdays, 11 a.m. & Sundays, 1 p.m.
Bilingual Birdies are landing at the Garden this holiday season! Join this exciting 45 minute long Spanish and English musical experience designed for the whole family each week for a new live music, movement dance, puppetry and theater-based games program.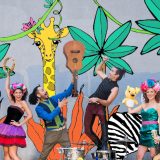 Fiesta Tropical with the Bilingual Birdies Band
Sunday, December 16; 11 a.m.
Ross Hall – General Admission Seating

The Bilingual Birdies Band consists of six NYC-based Latin musicians. In Fiesta Tropical, they fuse the sounds of cumbia, salsa, tango, and samba, creating an epic dance party where families are exposed to and empowered by the rich cultural heritage of Latin America! Kids learn new words in Spanish and heart-warming life lessons in this one-hour, highly energetic and interactive concert performance, an inter-generational celebration that kids and adults will LOVE! Check out a video of their performance.
An Inside Look at Indoor and Outdoor Activities