Plant Talk
Brad Oberle: Plant Lover, Tree Hugger, and NYBG Scientist
From the very beginning, Brad Oberle was a nature enthusiast.
He recalls spending his childhood outside, surrounded by a family that practiced recycling, and a community that had an intimate relationship with nature. His godmother gifted him a children's book called 50 Simple Things Kids Can Do to Save the Earth. He had a fascination with dinosaurs and big cats—though it proved difficult to find either of those in St. Louis. That didn't stop him from continuing to explore, however, and his early life was filled with many moments spent in nature. He can pinpoint one in particular that marked the beginning of his future.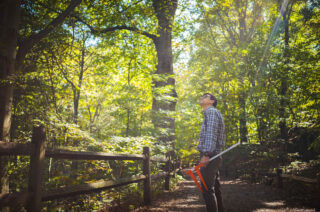 "I remember counting 12 different species of spring wildflowers," he reflected. "That was a transformative experience for me as a 12-year-old. I went to a bookstore and bought my first wildflower guide after that, and that set me on my personal path towards botany."
With such salient memories, it's no surprise that Oberle can sum up his plant-informed identity without any hesitation.
"I love plants and I'm a big tree hugger, and those go all the way back to childhood."
He's proud of it, though it's more than that. He uses this sure self-proclamation not just to describe himself, but also to explain why he does what he does, and what he hopes to do with the interests and ambition that have built over the years. In short, he loves plants—but it doesn't stop there.
"Those are core parts of my identity," he said. "Since then, I've just tried to learn how to combine those two passions."
Oberle embarked on a career that did just that, largely characterized by the interconnectedness between university education and research within botanical gardens and cultural institutions.
For instance, his graduate school training was a joint program between the Missouri Botanical Garden and Washington University at St. Louis. He then went on to a research position at the University of Zurich at the Institute for Systematic Botany in Switzerland, which is housed at its botanical garden. After that, Oberle completed a postdoctoral research position at George Washington University, which neighbors the National Natural History Museum in Washington D.C.
His proximity to educational institutions only narrowed once he took a job as an assistant professor at the New College of Florida—a small student-centered liberal arts school and a public institution, its low tuition drew a diverse population from around the state. Oberle used this as an opportunity to expose his students to the importance of plants and conservation.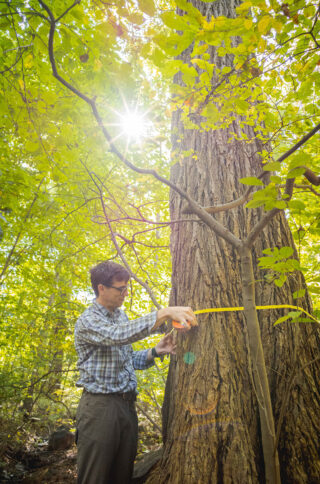 Knowing the importance of botanical gardens in scientific education, Oberle worked closely with Marie Selby Botanical Gardens to integrate programs between the two institutions.
His work there was transformative. With his first year, he helped establish a formal collaboration between the school and garden. He helped attract a major scholarship program to support students conducting research at Marie Selby, and he relaunched its in-house research journal, Selbyana, as online and open-access.
"It was extremely gratifying to inspire the next generation of leaders," he said.
Although Oberle's work at the college fostered much-needed hope, a sense of urgency loomed, and only became more intense as he saw the environmental challenges that threatened Florida's vulnerable ecosystems. He realized that the best action-driven approach he could take with his skill set was in research—and that's what brought him to NYBG.
Oberle has only been working as an associate curator at NYBG for three months, but he already has his eye set on crucial objectives that stay true to his plant loving, tree hugging identity.
"My goal here is to use the collections and the connections to solve problems with and for plants," he said. "Solving environmental problems with plants basically means nature-based solutions."
Oberle's research falls into three categories: forest ecology and cities, applied ecology for carbon sequestration, and mangrove restoration and conservation biology. We'll be covering all of these by highlighting the specifics of Oberle's work in a series of forthcoming posts.
Really, it all goes back to that very first hike.
"There are many rare species, including some of the plants I saw on that first wildflower hike, that are under siege because of climate change and because of other environmental changes happening right now."
Oberle is focused on action-oriented research—bringing together community groups, natural resource managers and policy makers to find solutions to the climate and biodiversity crises. He said the ability to communicate, and make science more easily digestible for broader audiences, has been integral in opening dialogue about his work, and translating it into action.
A perfect example of this, he said, was his experience on the Sarasota County Tree Advisory Council, for which he was a chair. Because he was the only scientist on the council, his title carried weight, and many people took this to mean they should solely defer to his judgement. However, it took the contributions of all stakeholders to generate good policies and find effective solutions for a healthy forest.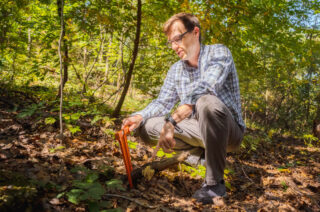 He recalls working on a document for the county government, which provided information to mitigate issues stemming from a newly adopted state law that strongly impacted the canopy.
"Working on that kind of a policy document was super different from writing a paper or teaching a class," he said. "Getting feedback from county government staff, from the county arborists, and from the other community members who were on the Council was a really great process for thinking about how to communicate more effectively."
Oberle is particularly ecstatic to be working with a new tree canopy: that of the Thain Family Forest. He's looking forward to diving into this, along with the other plants and people that make up NYBG's community.
"This is really my dream job," he said. "It's a really vibrant community. People have so many skills and so much passion. Every day I learn something new about plants."
What else is Oberle looking forward to at NYBG this year? Well, fall at the Garden of course. He said his two-and-a-half-year-old daughter has already picked out their family Halloween costumes, with a theme that's very on-the-nose.
"She gets to be a flower," Oberle said of his daughter. "Mom gets to be a bumblebee. I get to be a butterfly," he laughed. "This was not my idea! This was her idea, which is really, really funny."
Looks like Oberle is already well on his way to inspiring the next generation to be their own versions of plant lovers and tree huggers: students, scientists, and saplings alike.
SUBSCRIBE
Enter your email address to subscribe to this blog and receive updates on new posts.