Plant Talk
Celebrating Hispanic Heritage Month: An Interview with Lucrecia Novoa
Helena LaPorte-Burns is the Manager of Public Education Content at The New York Botanical Garden.
---
If you've visited the Garden in the fall, you may have been welcomed into the Enid A. Haupt Conservatory by two monarch butterflies, or followed in the footsteps of giant skeleton and La Catrina puppets dancing across the grounds. Since the blockbuster 2015 FRIDA KAHLO: Art, Garden, Life exhibition at NYBG, these delicate yet striking puppets have become old friends to visitors; the vibrant floral skull of La Catrina is an iconic representation of the Mexican image (and acceptance) of death; the monarch butterfly puppets are an anatomically correct representation of the real insect's movement; and yet, we know very little about their creator. In this interview, meet the woman behind the many masks, conducting the many strings: Lucrecia Novoa.
HLB: Tell us a little about yourself and your art:
LN: I was born in Chile, which is a very thin country with the incredibly high Andes Mountains on the east side and the Pacific Ocean on the west. When I was a teenager, I joined my older brother in mountain sports, and that increased my sense of wonder for the natural world, which was so easy to access by just walking up a hill. At the same time, Chile was under a brutal dictatorship and I was an activist against it, especially during my college years in the Art School of the University of Chile. I moved to Boston in my late 20s and developed my passion for performance art. I learned mask making with Eric Bornstein, a master puppeteer, and I was fortunate to perform with his group many times. I truly enjoyed the First Night Parade that occurs every Dec 31 in the streets of Boston. I did not even notice the winter cold when I was in character as Baba Yaga, the Russian witch, or Frederick, the little monster.

I moved to New York in 2001 and, over the years, I have continued growing my performance art portfolio. I am particularly proud to be director of the puppet's workshop at Earth Celebrations, which is a project directed by Felicia Young to mobilize the community of the NYC's Lower East Side around environmental action through the arts. I have built many puppets that call for ecological and social change. I am also very happy in my role as a Cultural Educator in which I teach art to children and senior citizens. It is especially thrilling to teach bilingual workshops and disabled children.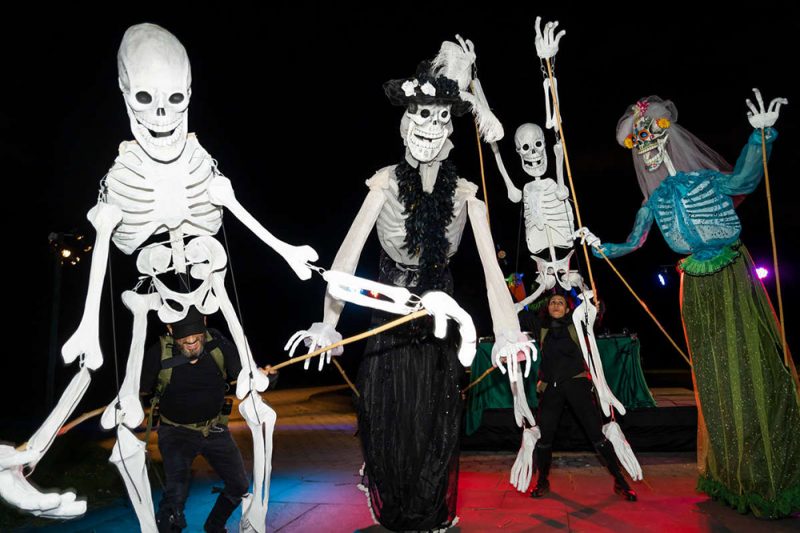 HLB: What does your artistic process look like?
LN: My artistic process begins with researching and understanding every character I build. This is an immersive process in which I practically breathe the character through my pores. Then, I start sketching. With every new drawing, the character becomes a reality—not just in my mind, but I also start glimpsing the personality, the way she will move and interact with the real world. At this point, I think about the materials. For example, if the character is a giant puppet, I will be concerned that the materials facilitate a good manipulation. The materials I use are strictly dependent on the character. Each stage of the creative process is tested so it is effective. The final part of the creative process is when the moving character interacts with the audience, producing a magical bond between them.
HLB: What inspires you as an artist?
LN: My main source of inspiration has been the contemplation of the natural world. The exact way in which I feel inspired is a little bit different every time, but the result is a piece of art that allows me to interact with a live audience and bring each character to life.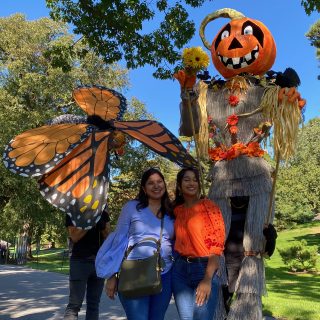 HLB: What are the stories behind your characters? How do you share these stories?
LN: I believe that all my characters have a story to tell. I am drawn to ancient characters that come from traditional folklore. For example, my character Baba Yaga is a personal take on the famous witch from Russian folklore, including the chicken bones that support her house. I love skeletons because they are in the interface between human anatomy and the magical world. It is lovely when my crew represents dancing skeletons. As a visual artist, I create characters that have recognizable details, so people can connect with them. As a performer, I bring the character to life with my movement.
HLB: What does Hispanic Heritage mean to you?
LN: Half of my life I lived in Chile, a beautiful country with extremely diverse geography. My experiences from my homeland have marked my personal history and form part of my heritage. I cherish each and every one of my experiences as a Latina woman. When I started my journey to the US, I loaded my suitcases with details of my land that represent moments and personal experiences so as not to forget my roots. Hispanic Heritage is not denying my origin but celebrating it and recreating it by sharing it in this new home.
HLB: How can people get more involved with your work?
LN: Please visit my website!
Novoa has recently created a new puppet for the Garden, a giant pumpkin scarecrow. To see this character in action, visit the Garden on Saturdays and Sundays, 1–4 p.m., now through October 31. We hope to see you soon!
SUBSCRIBE
Enter your email address to subscribe to this blog and receive updates on new posts.