Plant Talk
Exploration of the World of Plants Continues Remotely with GreenSchool
Tai Montanarella is the Marian S. Heiskell Associate Director of School and Out‑of‑School Programs at The New York Botanical Garden.
---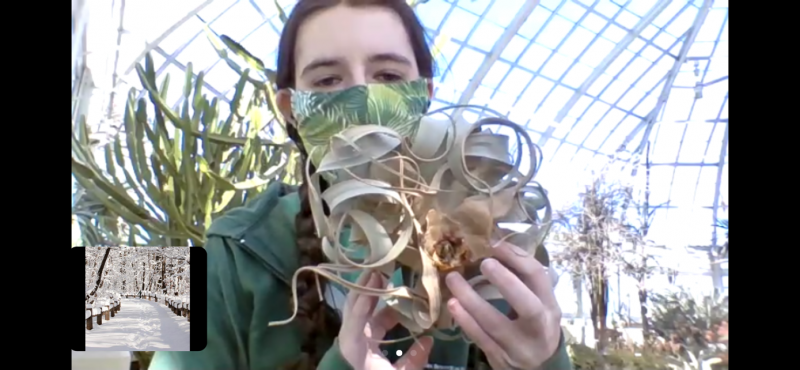 Exploration is essential to saving the plants of the world and lies at the heart of the mission of The New York Botanical Garden. While COVID-19 has restricted travel for many NYBG field scientists who typically traverse the globe on botanical field trips, schoolchildren continue the important work of discovering plants to understand, preserve, and protect them right here in the Enid A. Haupt Conservatory.

These days there are no yellow school busses transporting classes to the "Back of House 2," otherwise known as the African Desert, for the time-honored school field trip. Instead, students disembark in the "Waiting Room" of the online learning platform, Zoom. There, GreenSchool Educators welcome students inside for a live, interactive Rain Forest and Desert Exploration.
Whether in person or virtual, plants capture the imagination and children can't help but respond. When an image of their educator appears on screen surrounded by strange plant life framed inside the glass-and-steel gallery, they scramble to share their thinking by adding "Ooooooooooooohhhhhh," and "Wait, are you in a real place or is that a Virtual Background?" Their responses echo what educators often heard before the global pandemic: "I wish I could live there!"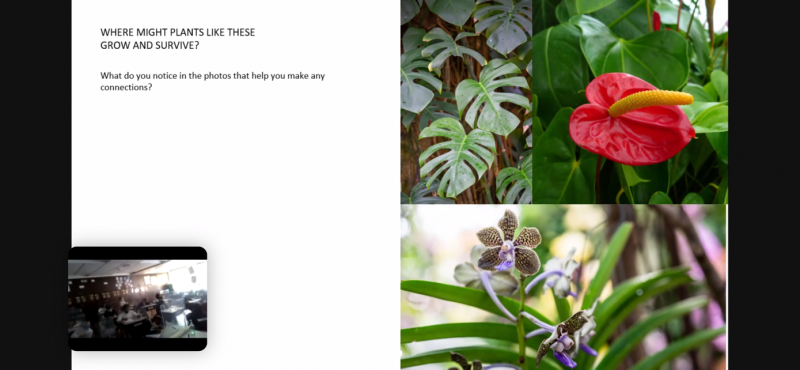 During the next 45 minutes students find plants, describe them, and record information about the climatic and terrestrial growing conditions of the biomes emulated inside a palm dome, a rain forest, and a desert. They make sense of the ways the observable features of the plants they encounter help them grow and survive thousands of miles away from their natural habitats. By documenting and discussing their ideas, students uncover patterns between species and places, and importantly, make connections to their lived experiences that honor the plant knowledge they bring to the investigations.
Just yesterday, when challenged with a "mystery" plant to identify characteristics which might help botanists understand where it grows and how to care for it, a second grader from William B. Ward Elementary School was eager to share what he was reminded about. He was sure the plant he described with light green, thick, fleshy stems; hazy white speckles; and tiny "teeth" was a plant his grandmother grew. While excitedly pantomiming the way she breaks the "insides" to rub the juice all over his arms and make them smooth, another student raced to bring her own potted plant to show and share.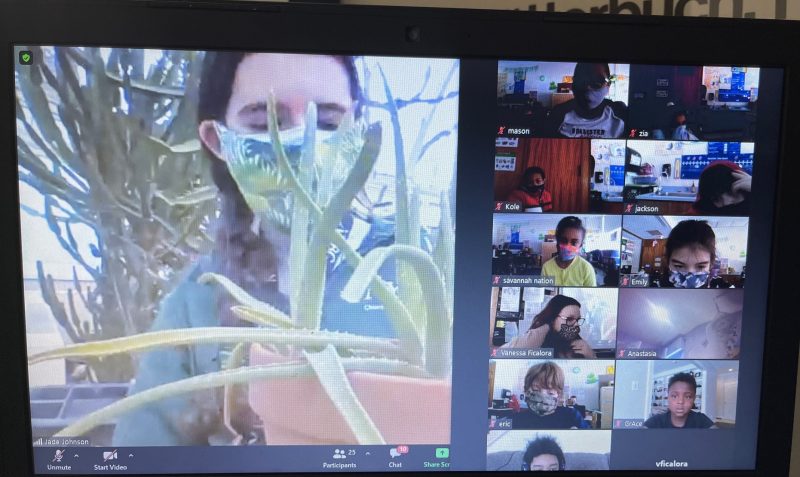 It's not just the students who appreciate their success. A teacher evaluated her class's virtual experience:
"One thing I really appreciated was your commenting on the students' work. You made each student feel valued, smart, and important. Your comments gave them a framework for what they did (e.g. by drawing the pictures side by side on the page, we can compare and contrast). Thank you, again, for giving us this special day."
While NYBG scientists and schoolchildren alike wait until it's safe to explore farther afield, the work of plant research and conservation continues. Scientists are in their offices, compiling data and writing reports that they never seemed to have enough time for in the past. Students use a new protocol they learned online for observing as they extend their plant exploration inside their homes and neighborhoods. They think like scientists and discover plants they once overlooked, questioning where in the world they come from and the ways they can help them to grow and survive. Both roles and actions are essential to saving the plants of the world.
SUBSCRIBE
Enter your email address to subscribe to this blog and receive updates on new posts.