Plant Talk
Exploring Food Love Stories with Matthew López-Jensen
Claire Janda is the Public Programming Coordinator at The New York Botanical Garden.
---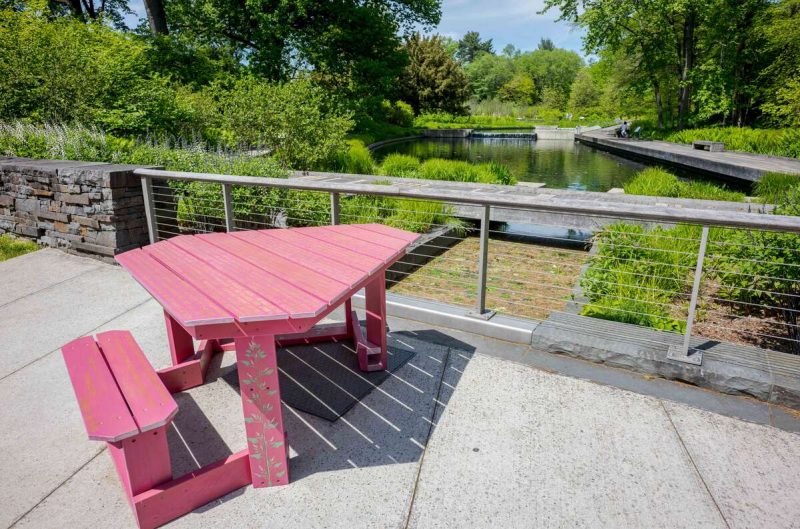 Artist and environmental educator Matthew López-Jensen is one of 30 Bronx-based artists commissioned to create a one-of-a-kind masterpiece based around a picnic table for NYBG's Around the Table: Stories of the Foods We Love exhibition.
In honor of Pride Month and in celebration of his creation, Lamb's Quarters: A Love Story, López-Jensen and the NYBG community invited LGBTQIA+-identifying couples to join him at the table and share their favorite food love stories on June 11 and 26.
Interviewed by López-Jensen, couples shared their experiences exploring shared food memories, new cuisines sampled together, favorite restaurants or countries to visit, a love for cooking together, and stories of how they first met.

Below, explore the stories told by each couple, or head to the bottom to read a transcription of their interviews.
Lailani & Sebastian
Bronx couple Lailani and Sebastian first met through professional work on a collaborative project, and then again on a bus while volunteering. Although they're both comfortable with cooking, Sebastian acknowledged that Lailani has a special power in the kitchen. As they reflected on their favorite dishes, they laughed about an enormous seafood boil that Lailani had piled onto a six-foot table, just for the two of them. Sebastian declared that for meals like this, "It looks like a smorgasbord for about 10–15 people." He added, "I do like to cook, but I don't like to cook like that!"
---
Tony & Michael
Tony and Michael both live and work in the Bronx. When prompted to share their love story, they immediately mentioned attending a barbecue together—three hours after first meeting!
A love for good food continues to be a connection. "Cooking is like our therapy…even having a very small New York City kitchen. We love to make potato soup, the one comfort food in the winter. When we met each other, we were a young typical gay couple; we didn't have any money and we had student loans. Potato soup is so easy," Tony explained. Michael chimed in, "and it has bacon!"
---
Julian & Joel
For Bronx couple Julian and Joel, pancakes are part of their love story. A day after meeting at a favorite club, Crash, they had their first meal together at IHOP—butter pecan pancakes for Julian and chocolate chip for Joel. Pancakes have continued to be a food that connects them throughout their travels. "Speaking of a cultural food in a cultural place, when we went to Puerto Rico for the first time, we went to Vieques," Joel explained. "We were by the beach in the cabana, and we both tried breakfast with banana pancakes…I'd love to relive that moment again."
---
Erica & Valentina
Erica and Valentina immediately thought of coffee as a fundamental part of their food love story, but also see it as an example of their cultural differences.
Says Valentina, "We have a lot of little rituals regarding food. I'm Colombian and we consider cold coffee a blasphemy. Americans just love cold coffee, and Erica loves cold coffee. I like hot coffee, and at the beginning of our marriage we realized we were both trying to accommodate the other. So, it was like, Erica started drinking hot coffee because I like it and I started to drink cold coffee because she likes it."
---
Eduardo & Partner
For NYBG's Diversity and Inclusion Manager, Eduardo, and his partner, food was the key to introducing their differing cultural backgrounds. "Back home in Bolivia or in my other home in Central America, there is nothing like the flavors and preparations from his country's traditional recipes, and he felt the same way about Bolivia's very unique traditional dishes. Our actual countries and their cuisine were a new discovery for the both of us," Eduardo said.
The couple immediately thought of the Peruvian dish lomo saltado when asked to describe a food that brought them together.
"When I tried…lomo saltado, it reminded me of something familiar in my country's food—but a completely different flavor, different recipe-style, more juicy and rich, different spices," Eduardo's partner mentioned. Eduardo was quick to add the details they had memorized from cooking the dish together. "Lomo saltado is a Peruvian dish traditionally, but we also make it in other parts of Latin America. It's steak with onions, peppers, and tomatoes and then its cooked heavily in soy sauce with traditional Latino spices on it."
---
Deb & Maya
Bronx couple Deb and Maya recorded their Food Love Stories separately, but when prompted to think of a food they tried for the first time together, they were drawn to the same meal—artichokes while on honeymoon in Italy. "I remember going to Rome during artichoke season, and going with Maya. She is culturally Italian and she has a really good sense of the seasonality of food," said Deb. Maya mentioned the same delicacy in her Food Love Story, adding, "It wasn't the first time I'd had artichoke, but it was the first time I'd had it in that preparation."
This immersion in another culture's traditions was a profound experience for Deb. "I thought that was really wonderful…Kind of like discovering that birds migrate—this thing has been going on for so long and you didn't really know," she said.
---
Aimee & LaToya
For longtime NYBG Membership Coordinator Aimee and her girlfriend, LaToya, it was a certain type of cookie—chocolate with peanut butter chips—that solidified their relationship and became a special tradition. LaToya remembers, "Aimee told me on our first date that her favorite cookie was chocolate cookie with peanut butter chips. She told everyone she ever dated that she loves them, but no one had ever made them for her."
Aimee was touched by LaToya's efforts, and laughs, "I didn't know until six months in or so that you were making them from scratch!"
Now, LaToya makes them on the 13th of every month and mixes in her own favorite add-in (chocolate chips) to make the ultimate chocolate and peanut butter combination.
---
Douglas & Fabio
Bronx couple Douglas and Fabio have spent the past 20 years exploring new foods together, and share a particular love for the Brazilian dish feijoada. The dish develops a stronger flavor over multiple days of stewing, and has become a weekly ritual for many Brazilian families. Fabio explains, "Feijoada is a dish we both love…It's pork stew with black beans. It's usually eaten on Saturdays, but the majority of people start cooking on Wednesday and they overcook it until Saturday, so that it becomes thicker and better."
---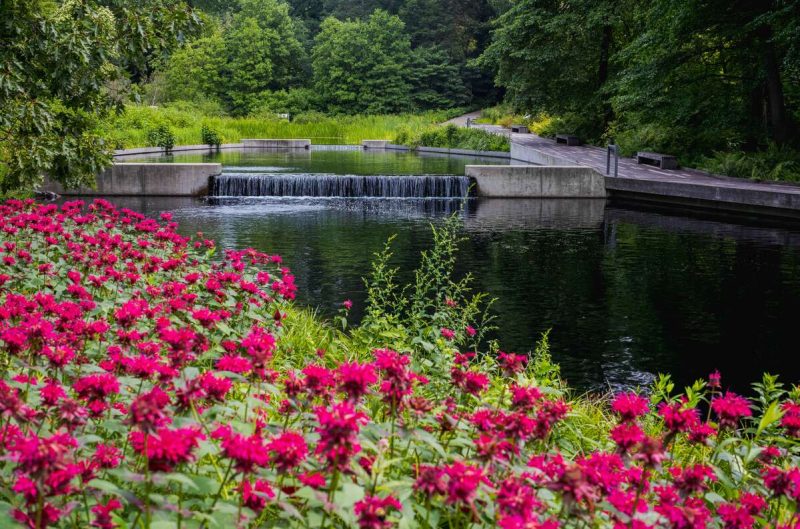 Matthew López-Jensen is a Bronx-based (Norwood) environmental artist, photographer, educator, Citizen Pruner, and community gardener. His projects combine walking, collecting, action, and social engagement. Current projects include The Tibbetts Estuary Tapestry, Bronx Sky Farm at All Hallows, and the Mosholu Teaching Forest on Mosholu Parkway. As an artist-in-resident at the NYC Urban Field Station, he spent two years photographing street trees and act of stewardship. He has also participated in residencies at MacDowell, LMCC, Guild Hall, Hortus Arboretum, Wave Hill, among others.
López-Jensen teaches Art and Action on the Bronx River at Fordham University and photography at Parsons School of Design. He is a Guggenheim Fellow in photography and his work is in the collections of the Metropolitan Museum of Art, The National Gallery of Art and the Brooklyn Museum, among other institutions. He received his MFA from the University of Connecticut and BA from Rice University.
The Around the Table exhibition is on view at NYBG through September 11, 2022. López-Jensen's table, Lambs Quarters: A Love Story, is nestled in the Native Plant Garden. Audio recordings of Lopez-Jensen's original essay on foraging and queer love are available via QR code as part of the installation in both Spanish and English.
A link to the audio files recorded by the couples is also available at the table, where you are invited to sit, listen, and reminisce about your own love stories and food memories.
SUBSCRIBE
Enter your email address to subscribe to this blog and receive updates on new posts.