Plant Talk
Growing Locally: The Summer Harvest Continues in the Edible Academy
Toby Adams is the Gregory Long Director of the Edible Academy at The New York Botanical Garden.
---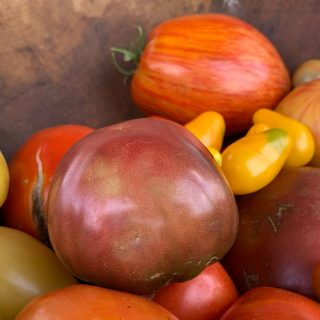 From ripe tomatoes to fresh garlic, our staff have been hard at work while the Edible Academy remains closed, gathering the season's best produce for donation to local organizations.
The vegetables that we typically grow and use during our culinary workshops throughout the season have been harvested this summer for distribution to emergency food providers Part of the Solution (POTS) and the Mexican American Students' Alliance (MASA), as well as Community Farm Hub member gardens like the Garden of Happiness, the James Baldwin Outdoor Learning Center, and La Finca del Sur.
In recent weeks, the harvest has included varieties of garlic like 'Russian Red' and 'Music', of which the largest heads picked will be planted in Community Farm Hub member gardens this fall to be harvested next season.
Our tomatoes are also ripe for the picking, providing us with dozens of pounds of cherry tomatoes each day, like 'Sungold', 'Sweet Million', 'Blueberry', and 'Honey Drop'. Plum tomatoes like 'Speckled Roman' and beefsteaks such as 'Pineapple' and 'Weisnicht's Ukrainian' round out the wide selection of heirloom tomato varieties grown in the Edible Academy this year—all of which are being donated for distribution to those in need here in our borough.
Stay tuned for future updates as the summer harvest continues at NYBG, and learn more about our Community Farm Hubs program here.
SUBSCRIBE
Enter your email address to subscribe to this blog and receive updates on new posts.