Plant Talk
Now Available: NYBG Scientist's Updated Book on Biocultural Conservation
Michael J. Balick, Ph.D. is Vice President for Botanical Science and Director and Philecology Curator of the Institute of Economic Botany at The New York Botanical Garden.
---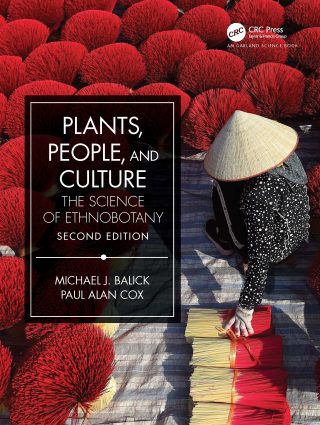 Paul Alan Cox, Executive Director of the Brain Chemistry Labs in Jackson, Wyoming, and I recently published Plants, People and Culture: The Science of Ethnobotany (Second Edition), which showcases the wide range of researchers and indigenous people engaged in the important work of maintaining biodiversity and plant-related traditions, or biocultural diversity.
This updated edition of our book about ethnobotany and the preservation of biocultural diversity demonstrates, through examples, how an individual can make a difference. We discuss contemporary ethnobotanical studies through stories from our own work as well as the efforts of others and argue that plants have shaped the very trajectory of human culture, past and present. The book has chapters on plants that have enhanced our diets, psychoactive species, plant-derived medicines, plants in material culture, and examples of on-the-ground biocultural conservation, all with engaging stories and color illustrations. New to this edition is "Plants That Harm," a chapter that examines the dangers of poisonous plants and the promise that their study holds for novel treatments for some of our most serious diseases, including Alzheimer's and substance addiction.
Many of the book's examples of efforts to stem the loss of biocultural diversity are current or recent projects led by scientists at The New York Botanical Garden. For instance, Douglas Daly, Ph.D., the B. A. Krukoff Curator of Amazonian Botany, is working to develop a platform for the sustainable harvest of timber in the Amazon region. The economic valuation analyses of Curator Emeritus Charles Peters, Ph.D., proved that forest resources were worth more standing than cut. Gregory M. Plunkett, Ph.D., Director and Curator of the Cullman Program for Molecular Systematics, K. David Harrison, Ph.D., Professor of Anthropology at Swarthmore College and Research Associate in the Institute of Economic Botany and I participated in a school designed to teach young people important traditional skills and knowledge that will foster resilience on a remote Pacific Island in Melanesia. Pioneering plant census techniques allowed Curator Emeritus Brian Boom, Ph.D., to show that indigenous people in the Bolivian Amazon have uses for far more of the plants in the forest than had previously been known. Finally, Ina Vandebroek, Ph.D., the Matthew Calbraith Perry Associate Curator of Economic Botany, is researching the food and medicinal plants used in urban communities in New York City.
Plants, People and Culture also features the role of the Botanical Garden's William and Lynda Steere Herbarium in supporting studies of plant and cultural diversity by documenting and permanently preserving the plants, knowledge of their language names, and local uses through its specimen collections and by making these widely available online.
In a conversation with Ann Armbrecht of the American Botanical Council that was livestreamed when the book was published, Dr. Cox and I made the point that indigenous-led conservation efforts can be effective and lasting and that we in the scientific community have much to learn from people who have successfully managed their resources for millennia. We advocate for considering indigenous people who have discovered so many different uses for plants as scientific colleagues as they have applied the methodology of trial, error, and success that is the gold standard of Western science to develop their knowledge. That is why many of our publications list indigenous people as coauthors and owners of the knowledge and processes.
The collective biocultural memory that holds social groups together as a community can provide important benefits that help people on their journey through life. In many parts of the world, this collective memory is being homogenized and displaced as the forces of globalization and modernization seek to shift societies based on traditional activities, values, and beliefs into the worldwide economic system. When that happens, the role of local people becomes focused on production and consumption. We believe Plants, People and Culture shows that the work of ethnobotanists in documenting plant use and providing support to communities is vital in helping to preserve cultural memory.
View the authors' American Botanical Council webinar.
Plants, People and Culture: The Science of Ethnobotany (Second Edition) is available online or in person at NYBG Shop.
Marie David, a healer from Pohnpei, Federated States of Micronesia, holding a stem of the guava plant, Psidium guajava, widely known to treat diarrhea. The young leaves and stems can be chewed directly, or shavings of the bark made into a healing tea.
Throughout the South Pacific and Southeast Asia, an extract of the beach morning glory, Ipomoea pres-caprae, is used on the skin to treat inflammation. In Thailand, a formulation of this plant of this plant for the treatment of jellyfish stings is now sold in drugstores after first being proven safe and effective in rigorous clinical trials.
A Huichol Indian yarn painting of the sacred peyote cactus, Lophophora williamsii. Note the richness of the colors that appear in the painting, which offers a sense of the visions seen during the ritual use of peyote.
SUBSCRIBE
Enter your email address to subscribe to this blog and receive updates on new posts.