Plant Talk
Q&A with NYBG CEO Carrie Rebora Barratt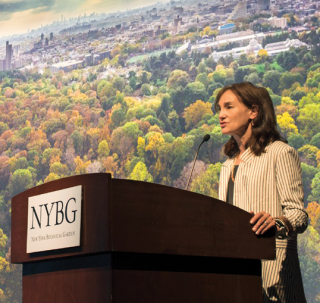 On July 1, 2018, Carrie Rebora Barratt, Ph.D., became the ninth CEO and President of The New York Botanical Garden and the first woman to hold the position. She came to the Garden following a distinguished career at The Metropolitan Museum of Art, where she worked as a curator and transitioned from research and scholarship to governance and administration, most recently serving since 2009 as Deputy Director, leading visitor-focused, mission-aligned initiatives for the institution during a transformational period in Museum's history. At NYBG, Dr. Barratt brings her focus to the care and presentation of the living collections and special exhibitions. Her track record for enhancing visitor engagement matches the Garden's reputation for groundbreaking scientific research and conservation programs; creative educational programs connecting art to science and human life to living collections, with enhanced offerings from pre-K through post-graduate studies; and vibrant exhibition and public programs that serve ever-growing and diverse audiences.

Following are excerpts from a recent conversation with Garden News:
How does your experience as a museum curator help jumpstart you in this new role?
I have worked in the integrated study of art, culture, and nature for my entire career, and my expertise in collections study, care, and management will draw attention to our own masterpieces, living breathing products of Mother Nature's creative streak. Our programs will be enlivened, perhaps with visiting artists and live arts—music, dance, poetry, performative and physical works of art inspired by and made from plant life.
Is there a historical figure who has been an influence or role model in your life?
Martha Custis Washington, the very First Lady of our country, one of the Founding Mothers of our nation. And my many times aunt on my maternal grandmother's side. She was a dedicated civic advocate, a woman of great passions and calm temperament. And she was a vegetable gardener, studying what would grow in Virginia for her vast kitchen garden.
What have you learned about the conservation role of botanical gardens in general?
Botanical gardens are agents of education and advocacy for the plants of the world. In surprising ways, through beauty and joy, our visitors learn about Earth's biodiversity and the importance of plants to human life. Behind the scenes, our staff engage in expert research and discovery, educate through science-based evidence and rich dialogue with each other and our visitors, and catalyze through targeted action in our city, our nation, and the world.
Where do you think NYBG can have the most impact right now? 
The solid operational and fiscal health of this venerable institution provides us with the opportunity to move NYBG further into conversations and actions on conservation, the environment, and human wellness—well beyond the boundaries of our beautiful site. We owe our world our utmost involvement right now in critical issues facing the plants of the world, our communities, and our people.
What is one of NYBG's biggest opportunities in the next decade?
Advocating for plant life. We must continue to support and emphasize teaching and training in botany and horticulture in core curricula from pre-K through post-graduate studies in order to educate and empower the next generation of Earth's caregivers.
What are a few of your personal interests?
Creating a native plant garden at home, while looking out for invasive species that creep into the landscape. I also love to cook and am studying vegetable-based soups and stews this fall.
What is a favorite NYBG experience?
The hawk that flies regularly by my window, reminding me that we are a vital ecosystem supported by a thriving and majestic bird population.
Any sense-of-place observations after three months?
A day spent at NYBG is a good day. It is a remarkably accessible, inclusive, and diverse place—in terms of plants and people—and also an incredibly accessible, inclusive, and diverse institution, welcoming the local community on-site and the world through online resources. We will continue to improve our interaction with our audiences and the ways they can experience NYBG, including community access passes, discount programs, and free events.
SUBSCRIBE
Enter your email address to subscribe to this blog and receive updates on new posts.