Plant Talk
Sharing with Those in Need: Bronx Organizations Receive Produce from NYBG's Edible Academy
Stevenson Swanson is Associate Director of Public Relations at The New York Botanical Garden.
---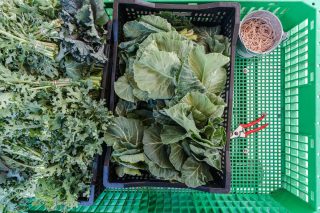 Usually at this time of year, New York City schoolchildren who are part of the educational programs at NYBG's Edible Academy would be busy harvesting the year's first crop of spinach, collard greens, and kale and learning how to use them to make nutritious salads and other delicious dishes.
During NYBG's temporary closure, however, there are no young hands on site to snip and pluck these greens. Not to worry: the Edible Academy's bounty is being put to very good use.
Harvested by the Edible Academy staff, the produce is being donated to two vital Bronx-based organizations that are working to make life better for those in need of food or medical care during this uncertain time.
The first recipient was Part of the Solution (POTS), which provides food and other services to 30,000 Bronx residents a year. NYBG donated 50 bundles of red Russian kale, 30 bundles of collard greens, and 12 bags of baby red Russian kale, all of which could potentially serve more than 200 families, according to POTS.
The Edible Academy will also provide kale and spinach to the James J. Peters Veterans Administration Medical Center, which plans to distribute the produce to medical personnel who are on the front lines of fighting the COVID-19 pandemic.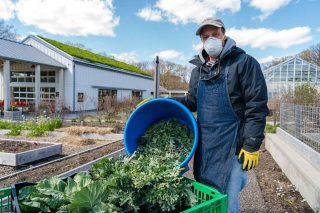 If it seems too early to be harvesting vegetables, that's because these first pickings are the leafy shoots of spinach and other greens planted at the end of last year's growing season. The plants survived in the ground during the cold weather, or overwintered, and sprouted new growth with the return of warm weather and longer days, providing early spring produce.
Because of the support of the New York City Council and others, the Edible Academy school partnership program was able to shift gears and provide this fresh, organic produce to important Bronx organizations. NYBG especially thanks Council Speaker Corey Johnson and Councilmembers Andrew Cohen, Vanessa Gibson, Rafael Salamanca Jr., and Ritchie Torres.
SUBSCRIBE
Enter your email address to subscribe to this blog and receive updates on new posts.