Earth Month Celebration 2022
Friday, April 1, 2022 – Saturday, April 30, 2022
Online | At the Garden
Join us a for a celebration of Earth Month with ongoing programs at the Garden and online featuring science and nature, activities for families and citizen scientists, wide-ranging classes, and engaging videos spotlighting plants and people around the world. Don't miss our special Earth Day Weekend, April 23–24!
Maintaining Lichen Diversity in an Era of Global Change
Friday, April 22; 11 a.m. | Online

Lichens are all around us and they have fascinating stories to tell. Although most people do not notice them, lichens cover about seven percent of Earth's surface, and they contribute substantially to biodiversity in most terrestrial ecosystems.
Lichens are also sensitive environmental indicators. In this talk, Jesse Miller, Ph.D., will discuss how lichens can be used as indicators of habitat conservation value, and how we can maintain lichen diversity in an era of altered fire regimes and other global change pressures.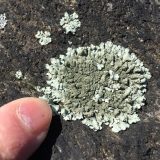 Rooted in Plants: Dr. Janaki Ammal
NYBG's Teen Explainers highlight Janaki Ammal (1897–1984), the first woman from India to earn a doctorate in botany in America.
Through her studies of plant breeding, she is credited with developing improvements for commercial plants to feed the Indian population and use her influence to preserve indigenous plants.
Plants as Liberation: Frances Perez Rodriguez
Earth Month Demonstration: EcoBronx
The Herbarium of Endangerment: A Digital Display of Plant Precarity & the Names We Give
Debuts April 15
This online exhibition is a collaborative project by NYBG's Humanities Institute 2021–2022 Mellon Fellow Kathleen Cruz Gutierrez, Ph.D., and UK-based visual artist Liz Orton. It features specimens from NYBG's C.V. Starr Virtual Herbarium, original photographs, and historical information to explore the constellation of names of currently endangered species.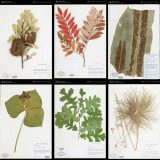 Earth Day 2021 Documentary: Plants & People of Vanuatu
Revisit this inspiring documentary that highlights the shared conservation mission of a diverse group of plant scientists, mycologists, ethnobotanists, cultural specialists, and linguists working to preserve this Pacific Island's plants, fungi, ethnobotanical knowledge, cultural practices, and language.
NYC Compost Project Food Scrap Drop-Off Program
This video highlights the importance of food scrap drop-off sites, showcasing a Bronx community compost location and demonstrating how you can participate.
Reduce, Reuse, Revitalize!
Tiffany Gomez is a Bronx-based sustainable artist, designer and founder of Gomez Design Studio. In this video, she'll guide you through a DIY garden-related craft project, creating a small planter pot using recycled paper and reclaimed materials.
NYBG Shop & Silent Spring
Whether you are visiting NYBG or shopping from home, NYBG Shop has a great selection of books, plants, and products all inspired by Earth Month, including Rachel Carson's book Silent Spring.
Rachel Carson, best known for her 1962 book Silent Spring that brought the environmental crisis front and center into the public's consciousness and ignited the creation of the modern-day environmental movement, wrote the following final sentence in her earlier seminal work The Sense of Wonder, which was published in 1956.
"The lasting pleasures of contact with the natural world are not reserved for scientists but are available to anyone who will place himself under the influence of earth, sea, and sky and their amazing life."
This one line perfectly sums up the message that Carson was attempting to convey in her very personal though brief treatise on the importance of adults experiencing the natural world with the openness to adventure, wonder, happiness, and discovery naturally possessed by children. And she offers us a wonderful guide to share this experience with the children in our lives and to celebrate the beauty and mystery of nature together. At NYBG this continues to be a very important part of our mission—through an extensive Adult Education Program, Special Exhibitions and Public Programs, the Everett Children's Adventure Garden, and the Edible Academy, to name just a few. Silent Spring and The Sense of Wonder are definitely "must reads" for all of us. Combine this with a perusal of NYBG's Adult Education Spring–Summer 2022 Catalog and becoming a NYBG Member and you'll be well on your way to embracing the natural world more completely and reaping all of its benefits!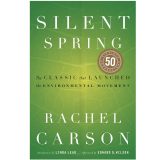 April with Beyond Books: Honoring Earth Day
Both new and returning members of the Facebook group NYBG Beyond Books can engage with meaningful topics such as climate action, living sustainably, and nurturing a personal connection with the environment through a variety of Earth Day-related books and media.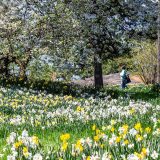 Engaging Classes for Nature Lovers
Deepen your knowledge of the plant kingdom. From plant and mushroom identification to forest ecology to sustainable floral design practices, explore classes that will inspire and guide you to a closer connection to nature.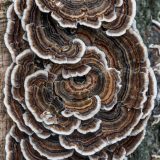 How To Get Your Garden Ready
Learn the basics from Kadeesha Williams, the former Bronx Green-Up Community Horticulturist/Urban Agriculturist, now with Iridescent Earth Collective, about sowing seeds, turning in cover crops, incorporating compost, and transplanting in videos shot at one of NYBG's partner Bronx community farms, Tawqa Farm.
Greening the Garden supported by: