The tricks and treats of fall come to life this year with plentiful pumpkins, gourds and ghouls, and fun-filled activities to celebrate this season of frights and foliage. There is something for everyone during the day or at night. Join us for special weekends of pumpkin parades and pumpkin carving face-offs, as well as the return of our beer sampling weekend—newly reimagined for 2022! Evening events give kids (and adults!) the chance to show off their Halloween costumes, artisan demos share the flavors of the season with food and drink talks, and so much more as the leaves transition to brilliant oranges, yellows, and reds.
Our Conservatory Plaza and adjacent lawn are now home to hundreds of pumpkins and gourds of all sizes, offering picture-perfect moments to capture your fall photos!
Flavors of Fall: Artisan Demonstrations
Weekends; 12–4 p.m.
Visitor Center
Savor your favorite flavors of the season while exploring the botanical backgrounds of pumpkin spice, chrysanthemum tea, and more with food and beverage talks, demonstrations, and tastings.
Fall Foraging Favorites with Clinical Herbalist Journei Bimwala
September 17 & 18; October 8 & 9, 22 & 23, 29 & 30
The autumn months are a rich season for foraging flavors, many of which may just become your new fall favorite. Learn more about how (and where!) to look for unexpected fall flavors in the natural world with foraging expert and clinical herbalist Journei Bimwala as she orients your taste buds to appreciate and identify the berries, nuts, herbs, and spices all around you!
Oyster Mushrooms with Hodgins Harvest Mushrooms
September 24 & 25
Aaron Hodgins Davis demonstrates how the small-scale organic mushrooms of Hodgins Harvest are grown! Don't forget to sample his prepared mushrooms risotto, purchase your own "grow" kit, or take home a recipe for later!
Autumn Harvest Honey with Boogie Down Bronx Honey
October 1 & 2 
The shift from summer to fall doesn't just impact the colors on the trees! The bees in the hives at Boogie Down Bronx Honey are taking note of the changing seasons, as well. Stop by to conduct your own taste experiment to compare spring and fall honey—you may be surprised at how distinct the autumn flavors can be.
Spices with Sahadi's
October 15 & 16
The autumn weather may bring to mind a few particular spice notes—but can you name the ingredients that make up the beloved pumpkin spice flavor blends? Get familiar with the pumpkin spice staples (allspice, nutmeg, cinnamon, cloves, and ginger) with Sahadi's, a beloved Brooklyn staple and curator of fine spaces and eats.
Fall Hawaiian Harvest with Kini Kahauolopua
November 12 & 13
Warm up with a special fall treat from Chef Kini Kahauolopua, and learn more about the harvest staples important to indigenous Hawaiians.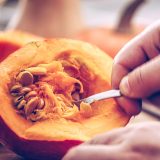 Scarecrows & Pumpkins
September 17–October 30; Various Times
Everett Children's Adventure Garden
Take a spooky stroll through the Everett Children's Adventure Garden this fall! Fearsome and friendly scarecrows return to greet you as you walk along the trails.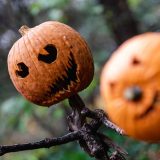 Experience Fall Foliage at its Finest
Explore the largest remaining expanse of New York's original wooded landscape as the Thain Family Forest's seasonal transformation takes hold. Stay tuned for the fall color cam to follow its progress.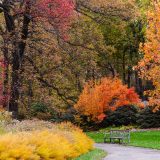 Sponsored by