Pumpkin Parade Weekend
October 22 & 23, 2022
11 a.m.–4 p.m. | At the Garden
Some of the country's largest gourds are on hand for a pumpkin party unlike any other! Get crafty with wands and shakers ahead of our Pumpkin Parade, and dress up in your best Halloween outfit as you walk down Garden Way with larger-than-life skeletons and acrobats. Then explore enormous pumpkins from the Great Pumpkin Commonwealth—some weighing in at over a ton—along with live pumpkin carving from artist Adam Bierton, winner of Food Network's Halloween Wars.
Parade Prep with Materials for the Arts
11 a.m.–2 p.m.

Join Materials for the Arts to craft colorful streamer wands and recycled shakers. You'll be sure to be heard and seen while you walk in the Garden's Pumpkin Parade.
Materials for the Arts is dedicated to giving unwanted items the opportunity to become something new through creative reuse through education and unlimited imagination.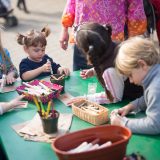 Pumpkin Parade
2 p.m.

Join in our Pumpkin Parade and wear your best Halloween costume! Leading you in celebration along Perennial Garden Way are giant puppets and acrobats. The parade will conclude with a Halloween dance party in front of the iconic Enid A. Haupt Conservatory.
Puppets on Parade
Larger-than-life skeletons and pumpkins, oh my! Puppets commissioned by Bronx-based puppeteer Lucrecia Novoa, a visual artist, educator, puppeteer, and director of "Mascara Viva."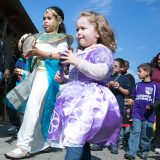 Pumpkin Carving with Adam Bierton
11 a.m.–3 p.m.

Watch as amazing pumpkin faces and designs emerge from pumpkins of all shapes and sizes.
Adam Bierton is a professional sculptor and pumpkin carver based in New York. Most famously known for his 3D style pumpkin carvings and his season five win of the popular Food Network series Halloween Wars in 2015. Bierton has competed in several other network series and has successfully carved some of the largest pumpkins from all over the country. To learn more, visit his website here.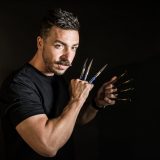 Giant Pumpkins on Display
10 a.m.–6 p.m.

Explore some of the largest pumpkins in the country on display right here at NYBG, some weighing in at over a ton!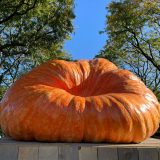 Meet the Growers: Q&A and Seed Harvesting
1 & 3 p.m.

Meet the growers of some of the largest pumpkins in the country, which at the peak of growth can put on up to 50 lbs. of weight a day. Hear how they do it and learn more about these monstrous gourds.