Giant Pumpkin Weekend
October 20 & 21, 2018
10 a.m. – 6 p.m.
Come See What Thrillist Called One of the Best NYC Exhibits to Share on Social Media
Monstrous pumpkins from around the country—some weighing in at more than a ton—once again arrive at the Garden, arranged in collaboration with the Great Pumpkin Commonwealth. Meet the growers to learn more about the growing process during Q&A sessions and enjoy photo ops with these giant gourds, on display through October 31.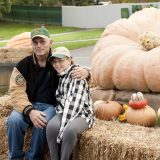 Meet the Growers: Q&A and Seed Harvesting
October 20; 1 & 3 p.m.
October 21; 1 p.m.
Throughout the Everett Children's Adventure Garden

Ask the growers your most pressing questions about growing these giants and watch them harvest the giant seeds. Be sure to snap a photo next to these gigantic pumpkins and see how you measure up!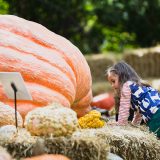 2018 Giant Pumpkins
2018 Giant Pumpkins are on their way! Check out these record breaking pumpkins at the Garden.
Largest Pumpkin in the World, 2018
Largest Pumpkin Ever Grown in North America
Grown by: Steve Geddes
Boscawen, New Hampshire
Weight: 2,528 lbs. (the weight of two grizzly bears)
Prize-Winning Giant Pumpkin, 2018
Grown by: John Barlow and Caleb Jacobus
Gays Mills, Wisconsin
Weight: 2,283 lbs. (the weight of 2 polar bears)
Prize-Winning Giant Pumpkin, 2018
Grown by: Ron and Dick Wallace
Greene, Rhode Island
Weight: 2,114 lbs. (the weight of 2 grand pianos)
Take a Peek at This Year's Giants!
Giant Pumpkin Weekend arranged in collaboration with: