Plant Talk
A Delightful Afternoon at the Edible Academy with Chef Aaron Bertelsen
Lisa Whitmer is the Director of Adult Education at The New York Botanical Garden.
---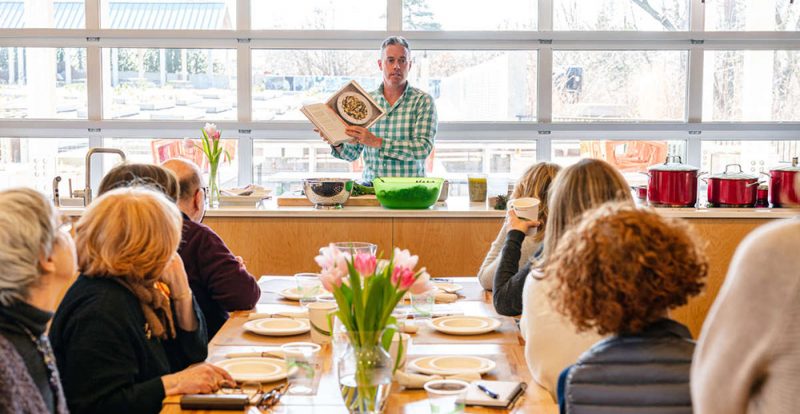 Regaling us with stories of growing vegetables in containers, cooking at the fabulous home and garden of Great Dixter, and making gin with Mrs. Next Door, Aaron Bertelsen delighted 30 lucky guests at a special lunch Adult Education held in the Edible Academy on Valentine's Day to celebrate the publication of his new book, Growing Vegetables and Fruits in Pots.

Great Dixter, the family home of legendary gardener and writer Christopher Lloyd in East Sussex, England, is a destination for horticultural pilgrims from around the world. While it is famous for its clever succession plantings, effusive herbaceous long border, and naturalized meadow areas, Great Dixter's kitchen garden is also an integral part of the plan. Lloyd was passionate about fruit and vegetables and Aaron Bertelsen has taken on that legacy as gardener-cook, creatively managing the vegetable garden and kitchen.
Because you can grow almost anything in containers, Bertelsen emphasizes how easy it is to grow your own vegetables, which leads you to eat more seasonally in order to make the best of the ingredients you grow. This is the focus of Bertelsen's recipes in Growing Vegetables and Fruits in Pots: cooking simple dishes with prime ingredients full of flavor.
Through the floor to ceiling windows in the Edible Academy, we could see the winter wind tossing the bare branches of the trees in the Thain Family Forest while we were cozy inside, dining on Courgette Salad with Anchovies and Capers, Warm Spiced Lentils with Cavolo Nero, and Tunisian Lemon and Orange Cake.
Preparing lunch from Bertelsen's cookbook
Lisa Whitmer and Aaron Bertelsen cooking in the Edible Academy
Working with fresh rosemary
Preparing Courgette Salad with Anchovies and Capers
Lunch is served
Bertelsen spoke of his love of using violas in simple borders to make containers of edibles more beautiful; his preference for adding shards of terra-cotta to the bottom of any pot to aid smooth drainage; and the gift of warmth that a house will bring to the plantings in any container nestled next to it.
At one point, I was pressed into being his sous chef, but I didn't mind. Aaron Bertelsen makes cooking excellent food easy.
Browse Adult Education's upcoming opportunities to learn more about cooking, preserving, and fermenting food from your garden.
SUBSCRIBE
Enter your email address to subscribe to this blog and receive updates on new posts.