Plant Talk
Ida's Impact on the Landscape and Living Collections of The New York Botanical Garden
Todd Forrest is the Arthur Ross Vice President for Horticulture & Living Collections at The New York Botanical Garden.
---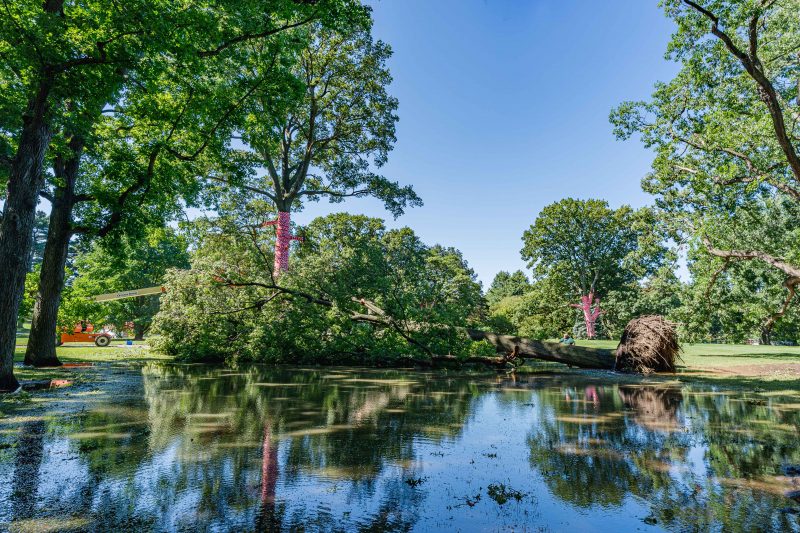 Post-Tropical Storm Ida dropped more than seven inches of rain on the Garden in only a few hours on the evening of September 1. This record-setting precipitation led to significant flooding across the landscape. The Bronx River reached historic heights matched only by Hurricane Irene in 2011. Heavy rains washed out several trails in the Thain Family Forest, inundated the Peggy Rockefeller Rose Garden, and left debris strewn across the entire 250-acre landscape.

Wind gusts to nearly 30 mph uprooted at least five trees across the Garden during the storm. Among these are two ancient oaks older than the Garden itself: a pin oak (pictured here), more than 145 feet tall, which shaded the lawn in front of the LuEsther T. Mertz Library Building, and a massive white oak with a trunk diameter of more than four feet near the Nolen Greenhouses for Living Collections.
Arborists have begun clearing these fallen trees. The clean-up process will proceed slowly due to the saturated ground, which is easily compacted by the heavy equipment required to move logs and limbs that weigh many tons. Preventing soil compaction will protect the roots of adjacent trees and reduce the likelihood of future blowdowns. We estimate that clean-up of these two trees will be completed sometime during the week of September 13.
As we remove the trees, we will assess the wood to determine if it may be usable for Garden benches or other purposes. Any wood that is not re-used will be recycled into mulch and applied in areas to preserve and protect the many thousands of trees that remain. All other green debris collected during the clean-up will be composted in our Green Materials Recycling Center.
Garden horticulturists have been working assiduously since the morning of September 2 to clean up as much of the flooding damage as possible in the meantime. They have already made great progress opening up roads and paths and removing debris from lawns. Trails in the Thain Family Forest will remain closed until they can be fully assessed and repaired, and we will continue to monitor the Garden over the coming weeks to identify and address any damage that may have escaped our initial post-storm evaluation.
SUBSCRIBE
Enter your email address to subscribe to this blog and receive updates on new posts.