Plant Talk
A Second Life for Orchids After the Show Concludes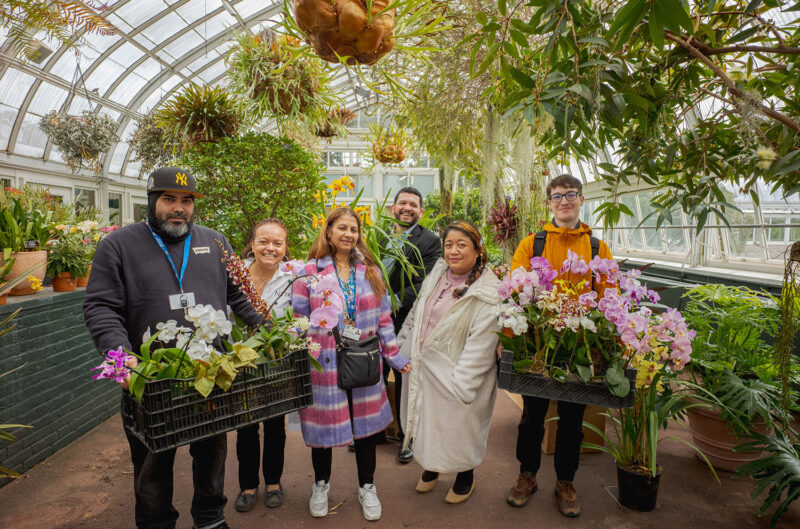 Each year The Orchid Show reimagines the galleries of our Enid A. Haupt Conservatory with a deluge of beautiful blooms—colorful tropical orchids in the thousands that invite visitors to step out of the City and into a fantastical flowering world as winter takes its leave and spring arrives. And as the annual celebration reaches its conclusion, we're often asked by visitors, "What happens to the orchids once The Orchid Show is over?"
You'll be happy to know that many of them will move on to new lives!
Some of the show orchids on display will be moved into our extensive permanent collection at the Garden, where they'll be maintained for future display, study, and teaching—joining one of the largest and most diverse living collections of orchids in the world.
Since 2007, NYBG has also partnered with Bronx community organizations throughout the borough to donate the healthy orchids that we don't keep to senior centers and nursing homes selected by elected Bronx officials, where residents will be able to care for and enjoy them. It's a way for our neighbors to share in the joy of these plants and the therapeutic nature of home horticulture, while giving those who couldn't make it to The Orchid Show in person an opportunity to experience its uplifting beauty first-hand.



This year, 14 local Bronx organizations received donations of flowers.
Just as these plants fill our Garden with tropical color each year, we strive to ensure that their "community service" continues to brighten lives in our borough long after the exhibition is over!
SUBSCRIBE
Enter your email address to subscribe to this blog and receive updates on new posts.