Plant Talk
Meet Your Tour Guide: Women in Garden Design Tour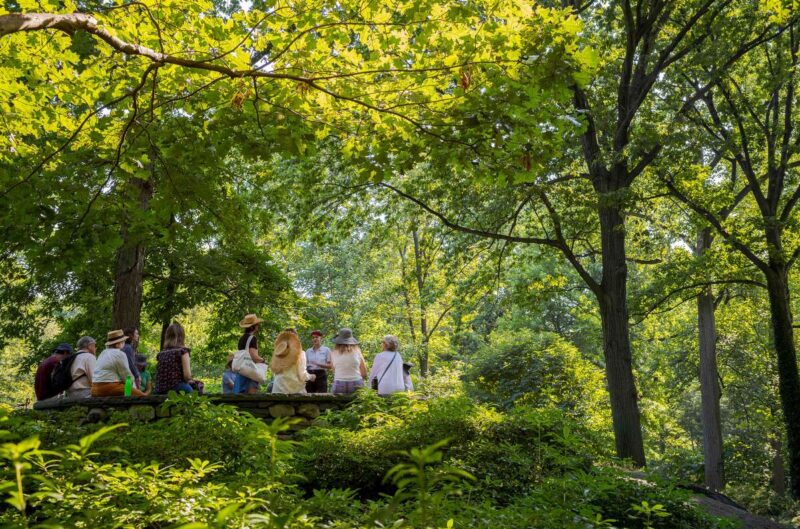 "Ellen Shipman, Beatrix Farrand, and Marian Coffin—groundbreakers—proved that it's not a man's world out in the garden."
—Ann Moller, NYBG Volunteer and Member
In celebration of Women's History Month, NYBG is offering a one-hour guided tour of collections that were designed by women, including Ladies' Border, the Perennial Garden, Rose Garden, and more. The tour, held at 12:30 and 2:30 p.m. on select Saturdays and Sundays throughout March, will highlight not only these treasured collections but also the legacies of the women who cultivated them. These important histories and stories are presented by NYBG Volunteers under the direction of Jade Johnson, Assistant Manager of Volunteer Services. Three of the leading guides—Ann Moller, Joanne Strauss, and Katherine Wagner-Reiss—took a moment to share their reflections with us.

How many years have you been a Volunteer?
Ann Moller (AM): I have been a Volunteer for nearly 10 years, but I have been a Member for over 20 years.
Joanne Strauss (JS): I have been volunteering for 21 years and became a docent in 2012, after retiring from teaching mathematics at Bronx High School of Science.
Katherine Wagner-Reiss (KWR): Eight years.
Why did you choose to become a Volunteer? What have you found to be most rewarding about the work? The most challenging?  
AM: I decided when I retired that I wanted to be a part of The New York Botanical Garden as a Volunteer, in what capacity I wasn't sure. I began training after roaming through the Kiku exhibition, then on to tours. I love my "job"—I am a people person and love to chat with visitors. The most challenging part for me when giving a tour is having a group too large so that they scatter.
JS: I had already been taking some gardening and crafts classes at NYBG and wanted to help my mom after my dad passed to continue composting, but on a smaller scale. I started with Bronx Green-Up in the Master Composter Program. Part of the program involved volunteering at the local community gardens and at NYBG. Once I was volunteering at NYBG, so many other volunteer opportunities were available. I have found it rewarding to open people up to the joys of experiencing nature and its benefits by introducing them to different areas of the Garden.  
KWR: After earning my Certificate in Botany from NYBG, I found volunteering as a tour guide to be an enjoyable use of my newfound knowledge. The greatest challenge is leading tours that offer something for everyone, from the avid home gardener to the partner who is just tagging along. My reward is a visitor who gives me a sincere "thank you" because they have enjoyed my tour.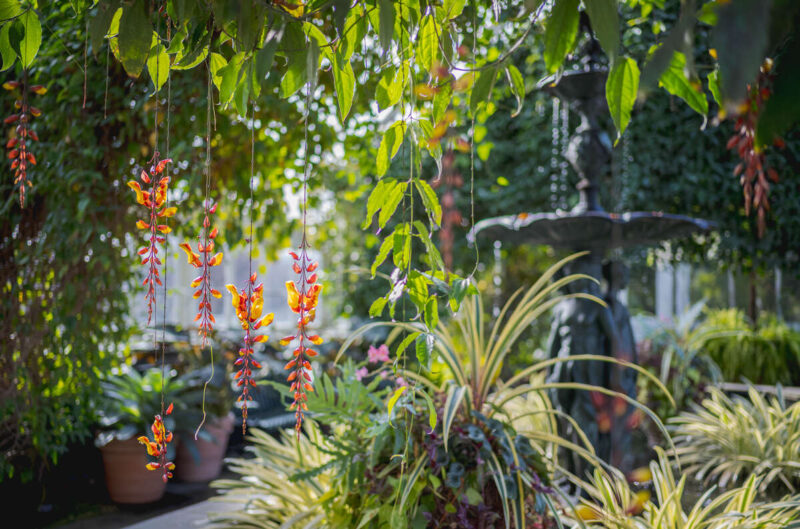 What is your favorite place at the Garden? Why?
AM: I am very partial to Ladies' Border, as that was my first tour as a guide. I love the history behind it: the plants, shrubs and trees, and how it is one of the first gardens to wake up in the early spring. It's generally very quiet, and you can observe hummingbirds and butterflies in its peaceful setting. The gardeners have planted Ladies' Border with plants, shrubs, and trees not native to NYC, but in the spring and summer you can see their success. My other favorite place is the Aquatic Plants and Vine Gallery in the Haupt Conservatory. The beautiful Three Graces fountain and the gorgeous jade vine are so peaceful and serene. One could spend hours in that room, happily sitting on a bench and breathing in the glorious colors and textures.
JS: Each area is unique, but if I had to choose it would be the Azalea Garden. I have been doing phenology (collecting plant data) in the Native Plant Garden, Rock Garden, and the Azalea Garden for nine years and the Wetlands for six. Through those observations, the Azalea Garden became my favorite area in all the seasons. It is peaceful and beautiful, rarely crowded, and there is so much more to see besides the azaleas, which are stunning.
KWR: Ladies' Border is my favorite place in the Garden because it combines beauty with a science experiment! The beauty is in the combinations of bark, foliage, and flowers in all four seasons—yes, there are even camellia flowers in the winter! The experiment is that many of the plants, usually not considered hardy enough to survive Bronx winters, do thrive in this south-facing sheltered location.
Why is nature important to you?
AM: Without nature we would be lost.
JS: There's always something new to discover. It both energizes me and makes me slow down. It soothes the soul. Anyone can enjoy it—it's free. Nature connects everyone—there's no distinction (age, gender, ethnicity, income, where you live)—and everything: animals, insects, plants, trees, people. It provides everything we need—food, clothing, shelter, oxygen, beauty—and engages all our senses.
KWR: Nature has drawn me in since childhood, when my mom gave me my own garden patch in New Jersey, where I grew, of all things, gladiolus! And, my love of nature was also bolstered by Girl Scout experiences.
Do you have any advice for young visitors to the Garden?
AM: I tell all visitors to be sure to look up and down when they are in the Conservatory and outside because there is so much going on. I would tell young visitors to get outside and enjoy the nature that is around us. Start off small with a houseplant, or plant some bulbs or a tomato plant. Get going!
JS: Look, observe, listen…what do you see and hear. Explore the Everett Children's Adventure Garden and walk through our Forest. (Come on one of my Tree tours, Forest tours, or Garden Highlights tours).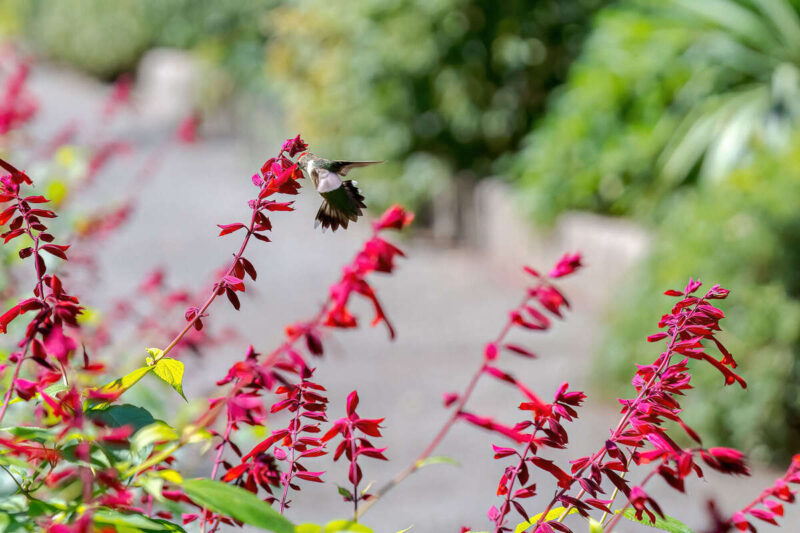 Who is your favorite female landscape designer featured in this tour? Why?
AM: Ellen Shipman is one of my favorite designers because the gardens that she designed appealed to the women of the home. Her straight lines and beautifully planted borders were comforting. Ladies' Border at NYBG is one of the few gardens remaining of her more than 400 garden designs.
JS: Marian Coffin had to overcome tremendous odds to succeed. She came from a wealthy family, but when she was seven years old her father died, and she and her mother had to move from New York City to the Finger Lakes region to live with her mother's relatives. She was home-tutored, with little formal education. She loved painting and gardening. With no income, she was determined to have a career. She was one of only four women in the architectural landscape program at MIT, 1901–1904. The most appealing thing to me is that she was a visionary whose designs were adventurous. She was able to incorporate existing structures such as swimming pools and tennis courts into her landscaping designs.
KWR: Lynden B. Miller is my favorite garden designer because she devoted her energy to beautifying city places for the public to enjoy. Her fine arts background combined with her horticultural knowledge gives her gardens a special style: "painterly plantings." And, imagine creating landscapes with plants that, unlike paint, change appearance over the seasons! Her signature style is seen in both the Perennial Garden and Ladies' Border.
Every guide has their own unique approach to giving this tour. How would you characterize your style?
AM: I like to have fun, and want the visitors to have fun. I want them to see and learn a bit about the history of NYBG and what's around them. I engage them, and listen to what they have to say (within reason of course).
JS: I like to contrast/compare the early women designers and their struggles with the current ones (Lynden B. Miller)—many studied painting or were painters first, which is reflected in the color palettes, shapes, and textures of plants and trees used in their gardens. Many early designers, as well as contemporary, know the value of native plants and incorporate them into their designs.
KWR: My approach to this tour is to hopefully open visitors' eyes to the thoughtful choices of the trailblazing women landscape designers who created several of NYBG's most intriguing spaces.
Is there anything you would like our audiences to know about women in gardening?
AM: Stick with your gardening design and landscaping design. Ellen Shipman, Beatrix Farrand, and Marian Coffin—groundbreakers—proved that it's not a man's world out in the garden.
JS: I also like to point out that in the late 19th century through the mid-20th century it was very difficult for women to have careers. Since gardening and painting were acceptable for women to pursue, many went into those fields. NYBG co-founder Elizabeth Gertrude Knight Britton was a pioneering botanist who advocated for public gardens that everyone could enjoy.
KWR: In the early 1900s, when NYBG was in its early years, women landscape designers were rare; Ellen Shipman was one of the first American women to break into this male-dominated field. In the early 1930s she was hired by NYBG's Women's Auxiliary Committee to design the initial iteration of Ladies' Border. Shipman, in turn, helped other women to succeed in the profession: she hired primarily graduates of the Lowthorpe School of Landscape Architecture for Women founded in 1901.
Ann Moller, Joanne Strauss, and Katherine Wagner-Reiss will be guiding the Women in Garden Design Tour on 3/25; 3/4, 3/5, 3/11, 3/26; and 3/19, respectively. They hope to see you there!
SUBSCRIBE
Enter your email address to subscribe to this blog and receive updates on new posts.