Plant Talk
Mum's the Word: Kiku's History at NYBG
Rose Octelene is the Resource Sharing Librarian of The New York Botanical Garden.
---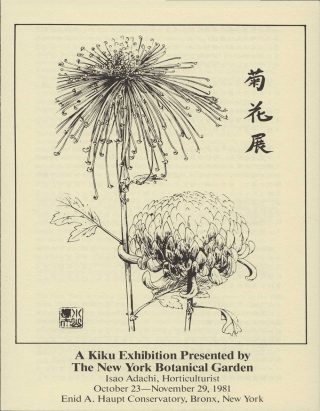 Kiku, the captivating chrysanthemum display at the Haupt Conservatory, has a long and fascinating history both at NYBG and abroad.
This fall favorite came to the Garden through one of NYBG's own students—Isao Adachi, 1978 graduate of the School of Horticulture originally from Japan. In 1981, Adachi returned to the Bronx from Japan, bringing with him the tradition of kiku. James M. Hester, who served as President of NYBG from 1980–1989, hired Adachi after inspiration struck at the Shijuku Gyoen National Park in Tokyo. Before NYBG, kiku never existed outside Japan.
Throughout the years, Kiku, named after the Japanese word for chrysanthemum, has taken on many different forms, yet has retained the careful precision of the ancient horticultural form. In 1984, the blossoms were used to decorate life-sized mannequins to create kiku-ningyo, or chrysanthemum dolls. Expert kiku-ningyo-sh, chrysanthemum doll makers, travelled from Japan and created costumes woven out of 4,500 flowers. Four years later, Kiharu Nakamura, a popular Geisha, added to NYBG's annual Kiku display by painting visitor's names in Japanese characters as artistic souvenirs.
As we celebrate another year of Kiku, on display in the Conservatory until October 30, it is important to remember that these living sculptures not only take 11 months of expert and meticulous training, but also have deep roots that connect NYBG to crucial cultural practices. Kiku exemplifies the delicate balance between plant and person.
"The mums are the director and I am their assistant," Adachi famously said in an NYBG newsletter. Later, he added, "I…want people to feel deep emotion when they see the chrysanthemums. The mums have their own melody; each person will get a different feeling from them. Each person must make their own poem."
Take a look through the images below, pulled from the Mertz Library's collection, to get a glimpse into Kiku's past.




SUBSCRIBE
Enter your email address to subscribe to this blog and receive updates on new posts.