Plant Talk
The History of The Haunted Greenhouse
Rose Octelene is the Resource Sharing Librarian of The LuEsther T. Mertz Library.
---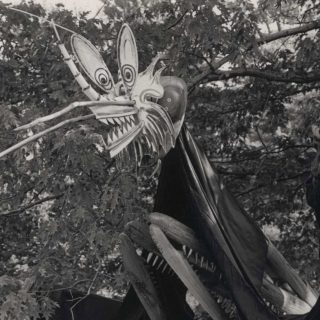 Before NYBG's Haunted Pumpkin Gardens was the Haunted Greenhouse, an NYBG Halloween extravaganza started in the 1970s and hosted and organized by School of Professional Horticulture (SoPH) students. The event occurred every fall, where students and staff would dress up in their best Halloween costumes, lurking behind bushes and trees, leaping out for a scare as visitors explored our Enid A. Haupt Conservatory.

While some costumes were handmade by the students, others were provided by the Eaves-Brook Costume Company (1983). Proceeds of the haunted event benefited the School of Professional Horticulture program due to student participants using the time as practicum, gaining valuable experience in horticulture management and public relations. Every year the number of visitors grew, and invitations were sent via the mail, inviting children and adults to visit for the occasion.
While the Haunted Greenhouse event has since ended, its spirit lives on in Fall-O-Ween! The Haunted Greenhouse remains a beloved part of NYBG's Halloween history.







SUBSCRIBE
Enter your email address to subscribe to this blog and receive updates on new posts.