Discover Seasonal Wonders
250 acres. 1 million plants. And you.
Experience the peaceful seasonal beauty across our 250 acres. Find out what's beautiful now and explore the winding trails of our old-growth forest. Discover our arboretum collections of historic trees and stately ornamental conifers. Spot winter berries, colorful mushrooms, and birds amid the tranquil landscape.
Dig deeper into our collections with mobile guides and audio tours, and enjoy a self-guided forest bathing experience. Bring the whole family to explore winter the landscape.
All visitors, including Members, must purchase or reserve timed-entry tickets in advance.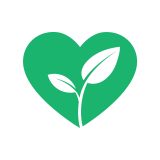 Safety Is Our Priority
We remain committed to providing you an enjoyable Garden experience with some new guidelines in place.
Let's work together so the Garden can remain open to all.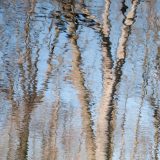 For Love and Only for Love: Letters to New York
Through January 10
NYBG partnered with Make Music New York on their annual winter solstice festival to present the world premiere of For Love and Only for Love: Letters to New York, an immersive choral installation by composer Pete Wyer.
Explore the Native Plant Garden at your own pace and socially distanced, as prerecorded music—performed by choirs of up to 72 voices projected over 24 independent speakers—inspires reflection of love, gratitude, acceptance, and our connection with nature during the pandemic.
Get to Know Our Trees
Winter highlights the unique beauty of our tree collections, putting on display colorful bark, stately architectural branches, and evergreen needles. Discover our favorites below.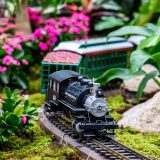 The Holiday Train Show Returns for Members
November 12–January 31
NYC's favorite holiday tradition is back for our closest supporters! With tickets and capacity very limited due to safety protocols that include social distancing, the only way to see this captivating display is as a Member, Patron, Corporate Member, or Bronx Community Partner.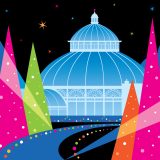 NYBG GLOW
Select Dates November 27–January 16; 5–10 p.m.
An Outdoor Color and Light Experience
This holiday season, let it GLOW at The New York Botanical Garden in an all-new outdoor experience illuminating NYBG's landmark landscape and Enid A. Haupt Conservatory.
With lots of room to spread out, explore a glowing world of color and light featuring the Haupt Conservatory as the centerpiece—its iconic exterior a glittering canvas. Washes of brilliant colors, thousands of dazzling lights, and picture-perfect installations fill the Reflecting Pool and enliven surrounding gardens and collections. Also during your visit, enjoy artistic ice carving displays, roving dancers and musicians, plus more outdoor fun.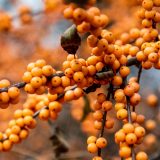 Become a Member
Join now to get access to the Holiday Train Show. Members also get free admission, exclusive previews and hours, and special discounts throughout the year. Plus, Members play a vital role in helping the Garden preserve and protect the natural world.