From the Field: Bill Buck in Cape Horn 2013, Day 12
Posted in Bill Buck, From the Field, Science on March 6 2013, by William R. Buck
January 21, 2013, Prov. Antártica Chilena, Comuna Cabo de Hornos, Isla Navarino, Puerto Williams, 54°56'S, 67°37'W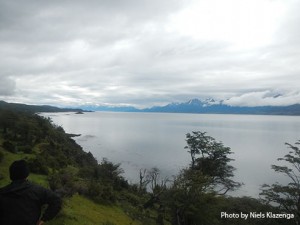 The day breaks overcast and drizzly which is a sort of relief; at least now I know that some alien climate has not taken residence in Patagonia! Today is the first day we have to fix our own breakfast, which leads to a late start and only an hour and a half to collect at our first site, which, according to last night's plan will be on the north shore highway. We now have to hope that tomorrow will prove better for ascending Pico de la Bandera.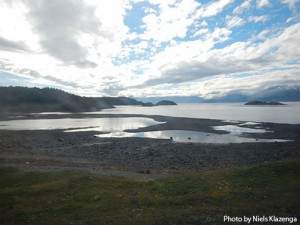 It is raining only lightly when we head out, but soon the skies open and we drive through a steady rain all morning. Our first site is Vuelta de Perro, about 18 kilometers east of town. It is a very wet site with lots of downed logs. I had been here about 10 years ago and thought it would be a good place to take the group. Since I have been here before and collected extensively, I focus only on the small things, finding lichenicolous fungi and even a couple of fungi over bryophytes, all the while keeping an eye out for interesting mosses. The site proves a little disappointing when compared to our previous pristine sites. It has been heavily disturbed by tree cutting and grazing cattle. Plus, it's our first day out in the rain.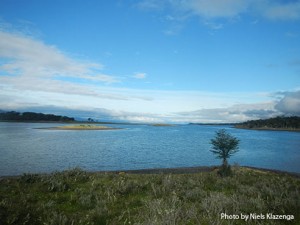 Our next stop is a small roadside waterfall. This is another site where I have collected before and I chose to survey the moss mat right next to the beach. Almost all of us are quite happy at this site and wish we could have more time to collect here, but lunch is waiting for us back on the ship, and thus our time is short. Laura finds a hepatic (Lethocolea) that makes her so excited she and Blanka are already plotting how to return to this site again at another time.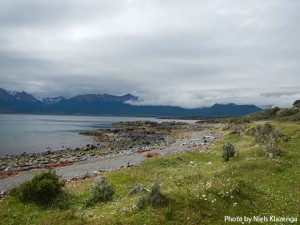 I find the beach rich in Bryum species, the specialty of John. I think John is upset by the weather, despite how nice it has been compared to other years. I realize he lives in a desert, but I tell everyone in advance what to bring and what to expect. I suggest reading the blog from previous seasons to get an idea of the field conditions. However, after last year when I lost patience with a different member of our crew, I am doing my best to remain patient and civil. We'll see how successful such efforts are! How, though, can I say nothing when Niels, Blanka and I find four species of Bryum between the planks of the dock while we are waiting around after lunch?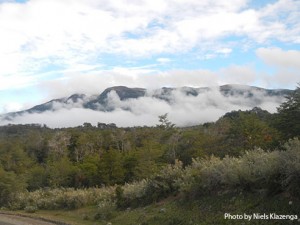 At lunch a different problem arises. The military has informed us that they do not allow tourists on Pictón, Nueva, and Lennox islands, places we are planning to visit in the upcoming week. So Ernesto tries to explain that we are investigators, not tourists. After visiting with them Ernesto sends a follow-up email. Now, the navy says they want a hard-copy letter, so Ernesto and Juan set to work on that. We have been told that we will get a decision tomorrow morning. Part of the issue is that some areas of these islands still contain landmines left over from the Beagle Channel conflict between Chile and Argentina. Needless to say, we are not interested in losing limbs, but we would like access to the mine-free portions of the islands. Time will tell.
After lunch a smaller group of us head west from Puerto Williams to a waterfall that Ernesto knows about. Almost as soon as we leave Puerto Williams the cloud cover breaks up and the afternoon turns beautiful. We make numerous stops for Blanka, Niels, and Paddy to jump out of the car to take pictures. Most are of views across the Beagle Channel to Ushuaia, and nothing seems too insignificant to capture–cows, horses, cow-coppiced shrubs, you name it. It is a lovely outing, the collecting is good and it really is a nice, scenic drive.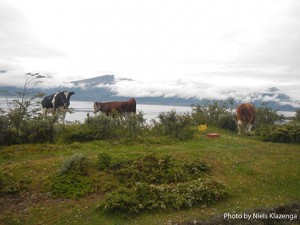 Ernesto had run into the cook of the restaurant where we are having dinner this evening while he was out last night. He mentioned to the chef how much Laura and I had enjoyed the food when we ate there the year before. As a treat for our group, he has decided to surprise us with a special dinner of crepes filled with spinach and walnuts, topped with a creamy mushroom sauce. What a treat! They even prepare for us a special dessert of walnut brownies with lemon sorbet and raspberry sauce.
Tomorrow we are scheduled to go up Pico de la Bandera, weather be damned. Fortunately, the forecast is good but we will surely be getting a late start in the morning. Blanka and Laura are going to run out to this morning's waterfall at 8 a.m. to look for more great specimens and Ernesto has an appointment with the navy at 8:30. We will also need to pick up lunches at a local store which means it will surely be 11 a.m. before we can set off. Because of all the fieldwork yesterday, I process my specimens after dinner and it is midnight before I fall into my bunk.
Ed. note: NYBG scientist and Mary Flagler Cary Curator of Botany, Bill Buck has just returned from his annual expedition to the islands off Cape Horn, the southernmost point in South America, to study mosses and lichens. For the past two years he was able to file stories from the field, but this year's locations proved so remote he was forced to wait until his return. We will be publishing them over the course of several days. Follow his journeys on Plant Talk.
Bill Buck's Previous Reports From the Field:
2013

January 20, 2013, Prov. Antártica Chilena, Comuna Cabo de Hornos, Isla Navarino, Puerto Williams, 54°56'S, 67°37'W
January 19, 2013, Prov. Antártica Chilena, Comuna Cabo de Hornos, Isla Hoste, Bahía Navidad, 55°24'S, 68°12'W
January 18, 2013, Prov. Antártica Chilena, Comuna Cabo de Hornos, Isla Hoste, Bahía Tekenika, 55°18'S, 68°39'W
January 17, 2013, Prov. Antártica Chilena, Comuna Cabo de Hornos, Parque Nacional Alberto de Agostini, Seno Ponsonby, Isla Hoste at Isla Grande, 55°11'S, 68°45'W
January 16, 2013 Prov. Antártica Chilena, Comuna Cabo de Hornos, Parque Nacional Alberto de Agostini, Isla Hoste, Bahía Helada, 55°05'S, 69°04'W
January 15, 2013, Prov. Antártica Chilena, Comuna Cabo de Hornos, Isla Hoste, Seno Ibáñez, Caleta Yekadahby, 55°04'S, 68°25'W
January 14, 2013, Prov. Antártica Chilena, Comuna Cabo de Hornos, Isla Grande de la Tierra del Fuego, Bahía Yendegaia, 54°50'S, 68°48'W
January 13, 2013, Prov. Antártica Chilena, Comuna Cabo de Hornos, Isla Grande de la Tierra del Fuego, Bahía Yendegaia, 54°50'S, 68°48'W
January 12, 2013, Prov. Antártica Chilena, Comuna Cabo de Hornos, Parque Nacional Alberto de Agostini, Isla Gordon, Bahía Tres Brazos, 54°59'S, 69°45'W
January 11, 2013, Prov. Antártica Chilena, Comuna Cabo de Hornos, Parque Nacional Alberto de Agostini, Isla Grande de la Tierra del Fuego, NE-most arm of Seno Courtenay, 54°34'34"S, 71°10'41"W
January 10, 2013, Punta Arenas, Chile
2012
February 5, 2012; Isla Londonderry, Puerto Fortuna, approximately 54º54'S, 70º26'W
February 4, 2012; Isla O'Brien, Caleta Americana, approximately 54º53'S, 70º23'W
February 3, 2012; Isla Grande de Tierra del Fuego, Fiordo Garibaldi, approximately 54º58'S, 69º49'W
February 2, 2012; Isla Gordon, middle arm of Bahía Tres Brazos, approximately 54º58'S, 69º41'W
January 31, 2012; Isla Gordon, Bahía Romanche, 54º57'S, 69º30'W
January 30, 2012; Isla Gordon, Bahía Romanche, 54º57'S, 69º30'W
January 29, 2012; Canal O'Brien, on the way to the Brazo Noroeste of the Beagle Channel, approximately 54º55'S, 70º35'W
January 25, 2012; Isla Darwin, Caleta Virginia, approximately 54º57'S, 70º10'W
January 24, 2012; Unnamed sound off Isla Whittlebury, in Bahia San Jorge, west of Isla Hoste, approximately 55º16?S, 70º00?W
January 23, 2012; Arm of Estero Webb, SW coast of Isla Hoste, approximately 55º14'S, 69º41'W
January 22, 2012.; Unnamed sound on Isla Gordon behind Cabo El Gorro, approximately 55º02'S, 69º48'W
January 21, 2012; Isla Hoste, Estero Fouque, 55º1'S, 69º35'W
January 20, 2012; Isla Hoste, Estero Fouque, approximately 55º11'S, 69º35'W
January 19, 2012; Chile, unnamed sound on north-central coast of Isla Hoste, approximately 55º00'S, 69º12'W
January 18, 2012; Canal O'Brien, just south of Isla O'Brien, 54º55'S, 70º35'W
January 17, 2012; Punta Arenas, Chile
2011
July 15, 2011; Hobart, Tasmania, Australia
July 14, 2011; Pyengana, Tasmania, Australia
July 13, 2011; Weldborough, Tasmania, Australia
July 12, 2011; Hobart, Tasmania, Australia
July 11, 2011; Hobart, Tasmania, Australia
February 8, 2011; Punta Arenas, Chile
February 5, 2011, unnamed sound northwest of Isla Georgiana
February 4, 2011, unnamed sound directly east of Seno Mama, Chile
February 2, 2011, Seno Courtenay, northern arm, Chile
February 1, 2011, Seno Courtenay, Chile
January 31, 2011, Canal between Isla Georgiana and Isla Clementina,, Chile
January 30, 2011, Unnamed sound on south side of Brecknock Peninsula, NW of Isla Georgiana, Chile
January 29, 2011, Isla Aguirre, Seno Quo Vadis, Chile
January 26, 2011, Punta Arenas, Chile
January 24, 2011, Seno Chasco, just north of isthmus to Brecknock Peninsula, Chile
January 23, 2011, Isla Grande de la Tierra del Fuego, Puerto Consuelo, Seno Chasco, Chile
January 22, 2011, Isla Grande de la Tierra del Fuego, Seno Brujo, Chile
January 21, 2011, Isla Grande de la Tierra del Fuego, Seno Brujo, Chile
January 20, 2011, Isla Grande de la Tierra del Fuego, Seno Bluff, Chile