Meet the Guest Designer & Guest Curator
Learn more about Raymond Jungles, FASLA, the exhibition's guest designer, and Edward J. Sullivan, the exhibition's guest curator.
Raymond Jungles, FASLA

Guest Designer
Raymond Jungles, FASLA, is the founder of Miami-based landscape architecture firm Raymond Jungles, Inc., recognized for excellence in the design and implementation of public and private projects.
He graduated with a degree in landscape architecture from the University of Florida in 1981 and founded his firm in 1982. In his mid-20s, Jungles met his mentor, Roberto Burle Marx, in Miami and made annual and biannual visits from 1982–1994 to Burle Marx's Rio de Janeiro home, now a national monument. Jungles's public projects include the design of the Visitor Center and Brazilian Garden at Naples Botanical Garden in Naples, Florida; the renovation of Miami Beach Botanical Garden; the Leon Levy Native Plant Preserve in the Bahamas; 1111 Lincoln Road, Miami Beach; and several areas at Fairchild Tropical Botanic Garden in Coral Gables, Florida. Jungles has previously collaborated with NYBG on two installations of the annual Orchid Show.
Edward J. Sullivan, Ph.D.
Guest Curator
Edward J. Sullivan, Ph.D., is the Helen Gould Shepard Professor of Art History at the Institute of Fine Arts, New York University, where he currently serves as Deputy Director.
His research interests include the art of Latin America, 19th- and 20th-century art of the Iberian Peninsula, and 17th- to 20th-century Caribbean art. Dr. Sullivan has published more than 30 books and exhibition catalogues on the art of Latin America, including Making the Americas Modern: Hemispheric Art 1910-1960 (Laurence King, 2018), From San Juan to Paris and Back: Francisco Oller and Caribbean Art in the Era of Impressionism (Yale, 2014), The Language of Objects in the Art of the Americas (Yale, 2007), and Latin American Art in the Twentieth Century (Phaidon Press, 1996). He serves on the Advisory Committee for Visual Arts of The Americas Society and is on the Board of the Mexican Cultural Institute of New York. In 2001 he was guest curator of Brazil: Body & Soul, a major exhibition at the Solomon R. Guggenheim Museum.
Image: Ministry of Education and Health, 1936, Oscar Niemeyer + Burle Marx, Rio de Janeiro RJ, Brazil © leonardo finotti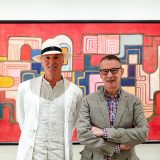 Brazilian Modern: A Look at Plants
Brazilian Modern: Sneak Peek
"Plants Really Moved Him" – Raymond Jungles, Guest Designer
"He was an activist...for the good of the planet"
– Edward Sullivan, Guest Curator