Opening Weekend Celebration
Saturday, June 8, 2019–Sunday, 9, 2019
Celebrate Brazil's lively contributions to music and dance evoking Rio de Janeiro, the "Cidade Maravilhosa" that Roberto Burle Marx called home.
Capoeira and Samba Demonstrations
Get moving with the dance style of Brazil, and take part in interactive demonstrations of the country's famed Afro-Brazilian martial art.
Interactive Samba Sessions with Grupo Ribeiro
Saturday, June 8; 1 p.m.
Conservatory Plaza
Learn to move with the lively rhythmic pulse during samba lessons, then join in the festivities that follow.
Capoeira with Silva Dance Company
Saturday, June 8; 12, 12:30, 1, & 1:30 p.m.
Leon Levy Visitor Center
Silva Dance Company will perform interactive demonstrations of this highly energetic Afro-Brazilian martial art that combines dance, acrobatics, and music.
ABADÁ-Capoeira Bronx
Sunday, June 9; 1-4 p.m.
Leon Levy Visitor Center
ABADÁ-Capoeira Bronx (ACBX) performs interactive pop-up demonstrations of Capoeira, the highly energetic Afro-Brazilian martial art that combines dance, acrobatics, and music.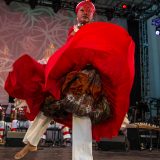 Parade & Dance Party
Get up and move during Brazilian music and dance programming held throughout the opening weekend celebration.
Opening Day Parade
Saturday, June 8; 2 p.m.
From the Mosholu Entrance to Conservatory Plaza
Batalá New York, a women's samba-reggae percussion band, leads an exuberant, Carnival-flavored parade that starts at the Mosholu Entrance and ends with a lively dance party at the Conservatory Plaza.
"Cidade Maravilhosa" Performance
Saturday, June 8; 3 p.m.
Conservatory Plaza
Join the parade's samba and capoeira dance ensembles, student participants from Carnegie Hall's Link Up program, and Brazilian brass band Nation Beat for a performance of Rio's anthem, "Cidade Maravilhosa."
Dance Party
Sunday, June 9; 1, 2, & 3 p.m.
Conservatory Plaza
Enjoy the propulsive rhythms of Nation Beat all afternoon, as the dynamic drum group provides a non-stop reason to get up and dance.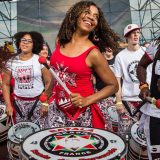 Landscape Film: Roberto Burle Marx
Sunday, June 9; 2 p.m.
Ross Hall
This documentary takes a sensory journey through the art and life of the Brazilian landscape architect and painter best known for the iconic black-and-white mosaic promenades that line Rio's Copacabana Beach. See the debut of this film in the U.S., followed by a conservation with director Joao Vargas Penna.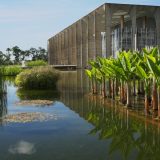 About the Artists
Discover the diverse rhythms brought to the Garden for The Living Art of Roberto Burle Marx by a variety of musical artists.
Batalá New York
This all-female percussion ensemble plays Afro-Brazilian music, primarily samba reggae. During Carnival every year, this distinct style is performed in the streets of Salvador, the capital of Bahia, by musical blocos with hundreds of percussionists moving together. In homage to that tradition, Batalá New York's performances are energetic and highly dynamic with colorful costumes and lively choreography.
Quenia Ribeiro and Grupo Ribeiro
The talented dancers and musicians of Grupo Ribeiro entertain audiences of all ages and backgrounds with interactive performances. Director/dancer/choreographer Quenia Ribeiro, a Rio native who has performed at festivals throughout Brazil and the U.S., teaches samba and Afro-Brazilian dance at New York City's Ailey Extension.
Carnegie Hall's Link Up
Dozens of elementary school music students from Success Academy Union Square will join the opening day parade under the direction of their dedicated music teacher, Joel Klein. The students have been learning the Brazilian song, "Cidade Maravilhosa" as part of Carnegie Hall's year-long music program, Link Up. Carnegie Hall's Link Up, a music education program for students in grades 3–5, reaches 450,000 students and teachers worldwide through partnerships with over 110 orchestras in the US, Brazil, Canada, Japan, Kenya, Puerto Rico, and Spain.
Nation Beat
An original American/Brazilian collective, Nation Beat fuses thunderous Brazilian maracatu drumming and New Orleans second line roots rhythms with audacious crowd-pleasing energy that gets people moving.
Silva Dance Company
Director/choreographer Leandro Da Silva and wife Janete come from Bahia and have performed and taught in the US and Brazil. Their company weaves capoeira and Afro-Brazilian traditions with contemporary and modern techniques into a soulful style all its own.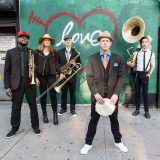 #plantlove Happy Hour
Co-hosted by The Sill, ihavethisthingwithurbanjungles, and ApartmentBotanist
Saturday; 3–4 p.m.
Visitor Center Cantina
Meet up with fellow plant lovers and enjoy drink specials featuring Brazil's national drink, the caipirinha, along with beer, wine, and more for sale.