Elizabeth Bishop in Brazil
Friday, June 21, 2019
11 a.m.-4 p.m.
A Daylong Celebration
Scholars, writers, poets, and an actress come together to celebrate poet Elizabeth Bishop's life in Brazil, from 1951 to 1966, and her journeys there in subsequent years, exploring her central relationship to the brilliant, self-taught landscape architect Lota de Macedo Soares who worked with Roberto Burle Marx on her own landmark modernist masterpiece home, Samambaia, in Petrópolis, as well as the celebrated Parque do Flamengo in Rio de Janeiro.
Bishop's friendships with key literary figures in Brazilian society, her adventures traveling in the Amazon and restoring an 18th-century home in Ouro Preto, and her sorrowful last experiences in Brazil following the death of Soares will be the subject of presentations and a panel discussion, which will include readings of Bishop's poems by actress Maria Tucci. Moderated by Alice Quinn, Executive Director, Poetry Society of America. A screening of the film Reaching for the Moon will follow at 2 p.m. in Ross Hall.
Event Schedule:
11 a.m.–12:30 p.m. | Presentations and Readings | Ross Hall*
2–4 p.m. | Film Screening: Reaching for the Moon | Ross Hall
*Please note this event has been moved to Ross Hall.
This event is free and included with Garden admission.
Presented by the Humanities Institute and the Poetry Society of America
Co-sponsored by The Academy of American Poets
Presentation Topics
Find out more about the presentations and readings celebrating Elizabeth Bishop's life and work.
Lloyd Schwartz will open the panel describing his trip to Brazil in 1990 to deliver a series of talks about Elizabeth Bishop's poetry, which had just been published in Portuguese, and coming to know about her life there more comprehensively than in their many years of close friendship in Boston.
Barbara Page will pay tribute to Brazilian writer Carmen Oliveira, whose book Rare and Precious Flowers contributed to North American interpretations of Bishop's life in Brazil, and inspired Reaching for the Moon, the film which will be screened later in the day. She will also share her translation of Bishop's only poem written in Portuguese, addressed to a close friend in Brazil in a mood of nostalgia and disorientation in 1970s America.
Sergio Bessa will outline a series of works from the late 19th century and early Modernism that dealt with Brazil's native identity and most likely informed Roberto Burle Marx's vision. He will also explore aspects of the Concrete Poetry Movement  which was very influential in Bishop's time there.
Christopher Schmidt's presentation discusses the friendship between Elizabeth Bishop and Roberto Burle Marx, suggesting that Burle Marx's designs provided Brazilians with a modern way of seeing tropical landscape, a vision Bishop in turn expresses in her poems and letters. He also addresses the quarrel between Burle Marx and Bishop's partner, Lota de Macedo Soares, over the design of Parque do Flamengo in Rio de Janeiro, which ended their friendship. 
Katrina Dodson, renowned translator of the work of Clarice Lispector, which Bishop also translated, will draw from her dissertation research to discuss Bishop's translations of Brazil, both as a site of mythic, lyrical, and intimate landscapes in Bishop's own poetry, as well as in her translations into English of work by Brazil's most beloved writers.
Tony-award-winning actress Maria Tucci will open and close the morning event with readings of poems by Elizabeth Bishop set in Brazil and translations Bishop made of Brazilian poems she loved.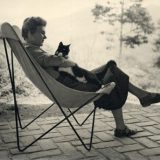 About the Presenters
Learn more about the scholars, writers, poets, and an actress presenting on Elizabeth Bishop.
Antonio Sergio Bessa is the Director of Curatorial Programs at The Bronx Museum of the Arts. A distinguished scholar of concrete poetry, he is the author of Öyvind Fahlström: The Art of Writing (Northwestern UP, 2008), and editor of Novas: Selected Writings of Haroldo de Campos (Northwestern UP, 2007), and Mary Ellen Solt: Towards a Theory of Concrete Poetry (OEI Editor, 2010).
Katrina Dodson is the translator of The Complete Stories by Clarice Lispector, winner of the 2016 PEN Translation Prize and other awards. She is currently adapting her Lispector translation journal into a book and translating the 1928 Brazilian modernist classic, Macunaíma, the Hero Without Character by Mário de Andrade (New Directions). Her writing has appeared in The Believer, McSweeney's, Guernica, and elsewhere. She holds a Ph.D. in Comparative Literature from the University of California, Berkeley, with a dissertation on Elizabeth Bishop in Brazil, and currently teaches translation at Columbia University.
Barbara Page is Professor of English, retired, at Vassar College. She has written extensively about the work of Elizabeth Bishop, including a chapter on the Brazilian poems and prose for The Cambridge Companion to Elizabeth Bishop. She is currently completing an essay on Bishop and Anthropology, for an upcoming Cambridge collection.
Christopher Schmidt writes about poetry, visual arts, and Brazilian culture. He is the author of a book of criticism, The Poetics of Waste: Queer Excess in Stein, Ashbery, Schuyler, and Goldsmith, and a book of poems, The Next in Line. His essays, reviews, and poems have appeared in Tin House, BookForum, Boston Review, Contemporary Literature, ArtMargins, and Time magazine. He is currently writing a study on representations of Brazilian landscape in the work of Elizabeth Bishop and Roberto Burle Marx. He is a Professor of English at City University of New York, LaGuardia Community College and The Graduate Center, CUNY.
Lloyd Schwartz is Professor of English at the University of Massachusetts Boston, classical music critic for NPR's Fresh Air, and poet laureate of Somerville, Massachusetts. Among his awards are a Pulitzer Prize and three Deems Taylor Awards for his music reviews and fellowships in poetry from the National Endowment for the Arts and the Guggenheim Foundation. His poetry collections include Little Kisses, and his poems have been selected for a Pushcart Prize, The Best American Poetry, and The Best of the Best American Poetry. An internationally recognized Elizabeth Bishop scholar, he edited Elizabeth Bishop and her Art; the Library of America's Bishop: Poems, Prose, and Letters; and FSG's centennial edition of Bishop's Prose.
Maria Tucci is a Tony Award-winning actress, also known for her performances in the films To Die For, Enormous Changes at the Last Minute, and Touch and Go. Tucci has contributed to many audiobooks, including Wonderful Town: New York Stories from The New Yorker and Violin by Anne Rice.
About the Moderator
Alice Quinn is Executive Director of the Poetry Society of America and an adjunct professor at Columbia University's graduate School of the Arts. She was poetry editor at The New Yorker from 1987-2007 and at Alfred A. Knopf, Publishers, from 1976-1986, and she is the editor of Edgar Allan Poe & The Juke-Box: Uncollected Poems, Drafts, and Fragments by Elizabeth Bishop. She is currently at work editing the journals and notebooks of Elizabeth Bishop.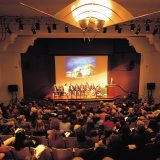 Film Screening: Reaching for the Moon
2 p.m.
Ross Hall
Academy Award-nominated filmmaker Bruno Barreto returns with a sophisticated tale of an unlikely romance between two extraordinary artists, set against the backdrop of political upheaval and a clash of cultures.
Grappling with writer's block, legendary American poet Elizabeth Bishop (Miranda Otto) travels from New York City to Rio de Janeiro in the 1950s to visit her college friend, Mary (Tracy Middendorf). Hoping to find inspiration on Mary's sprawling estate, Elizabeth winds up with much more—a tempestuous relationship with Mary's bohemian partner, architect Lota de Macedo Soares (Glória Pires), that rocks the staid writer to her foundation. Alcoholism, geographical distance, and a military coup come between the lovers, but their intimate connection spans decades and forever impacts the life and work of these two extraordinary artists. The attraction of two polar-opposite women has rarely been so volatile and so erotically charged on the big screen.