Brazilian Modern After Hours
June 29; July 13, 27; & August 10
6–8 p.m.
Unwind during special extended summer hours and make the most of the late sunsets while taking in the Brazilian Modern exhibition. Burle Marx's home, the Sitio, was famously known as a place where friends, colleagues, botanists, artists, poets, and other cultural figures from around the world gathered and socialized, and the spirit of that space comes to life during these evenings at NYBG. Sip a caipirinha, the national drink of Brazil; enjoy the rhythms of Rio de Janeiro during acoustic guitar performances; and explore the lush tropical plantlife of Brazil as the day transitions to early summer evenings.
Brazilian Modern After Hours are included with All-Garden Pass Admission. Your ticket provides full access to the indoor and outdoor components of Brazilian Modern, as well as outdoor access to the areas immediately surrounding the exhibition. Other gardens and collections, as well at the Tram, are not open for After Hours.
The Sounds of Rio de Janeiro
The sounds of Brazilian guitar fill the air of the Conservatory plaza.
Anthony Lanni
June 29 & August 10
Anthony Lanni is a New York City based jazz guitarist and member of American Samba band Os Clavelitos. As a solo performer, he specializes in traditional Brazilian Samba, Bossa Nova, Baiao and Bolero, with works by Baden Powell, Vinicius de Moraes, Antonio Carlos Jobim, Milton Nascimento and others.
Cesar Garabini
July 13 & 27
Cesar Garabini is an Italian-Brazilian 7-string guitarist who specializes in Choro, the predecessor to the well-known Brazilian music styles Samba and Bossa Nova. In the past 7 years he has performed at Jazz at Lincoln Center, Jazz Standard, Birdland, Columbia University, the Museum of Modern Art, with a monthly residence at Barbes. He has worked with Anat Cohen, Olli Soikkeli and Tim Connell. He has been featured on NPR, NBC and Global.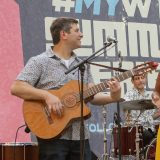 Enjoy Caipirinhas and Other Refreshments
Wind down and enjoy drink specials featuring Brazil's national drink, the caipirinha, along with beer, wine, and more for sale. Plus, grab a bite to eat from Merenda, our Brazilian-inspired food truck.
Specialty Cocktails
Caipirinha
Enjoy our take on Brazil's national cocktail, made with cachaça, sugar, lime, and pineapple—or request a classic caipirinha made to order.
Guava Caipiroska
A refreshing take on the caipirinha made with vodka, sugar, lime, guava and pineapple.