John Torrey:
Early Influences
John Torrey was born in New York City in 1796, the second of nine children of William Torrey and Margaret Nichols Torrey. Together with his brother William, young John explored the wooded hills and pastures surrounding then-remote Greenwich (today's Greenwich Village), where the family moved in 1811. John admired two older boys, brothers Lewis (1782-1838) and John LeConte (1784-1860). The brothers were amateur naturalists of varied interests, who would go on to lead distinguished scientific careers of their own, and introduced the young Torrey to botany. These experiences fueled John Torrey's lifelong love for nature.
Amos Eaton: An Unlikely Mentor
William Torrey served as a city alderman and acting fiscal agent of Newgate Prison, the state prison of New York from 1796-1828, which was located in Greenwich Village. Young John often accompanied him on business, and at age 15 he befriended an inmate, Amos Eaton (1776-1842), a lawyer by trade who had been convicted of forgery—but was also an active amateur botanist.
Eaton taught John basic plant anatomy and introduced him to the system of plant classification developed by Swedish botanist Carl Linnaeus, which organized plants according to their physical characteristics. John brought his mentor books so he could continue his botanical studies in the evenings. The two forged a friendship that lasted long into Torrey's own professional career. After Eaton's release from prison in 1815, they kept in contact through frequent letters.
Eaton went on to be a key figure in the early botanical history of the United States, whose work popularized the study of botany. Eaton gave a series of popular public lectures on the subject, and was one of the earliest teachers of botany to encourage outdoor study, bringing his students into nature. He was also an advocate for educating women in the sciences alongside men. His Manual of Botany for the Northern and Middle States (1817) was a practical tool for students and non-specialists that used accessible language and was reprinted eight times before 1840.
Image: Portrait of Amos Eaton, n.d. LuEsther T. Mertz Library, The New York Botanical Garden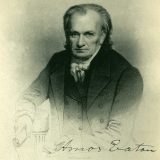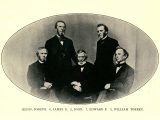 Photograph of the Torrey brothers. The numbers to the left of the names indicate birth order. For example, John Torrey was the second born child.
LuEsther T. Mertz Library, The New York Botanical Garden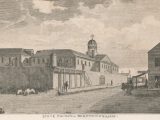 Newgate State Prison, Greenwich Village, New York City, 19th century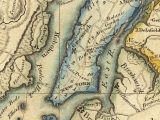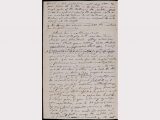 Letter from Amos Eaton to John Torrey, January 12, 1822. Eaton writes "You are made for the highest walks of science."
LuEsther T. Mertz Library, The New York Botanical Garden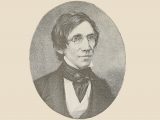 Portrait of John Torrey, n.d.
In A History of the New York Academy of Sciences, formerly the Lyceum of Natural History by Herman L. Fairchild (1850-1943), New York, 1887. LuEsther T. Mertz Library, The New York Botanical Garden