Early American botanists like John Torrey did not have to travel far afield to engage with the plant world—most of them were self-taught, and studied the plants growing near their homes. View some of the common plants Torrey studied so that you can look for them.
John Torrey Papers
With the support of the National Endowment for the Humanities, The New York Botanical Garden is working to make the letters of John Torrey available to larger audiences. Letters to Torrey by over 350 different correspondents are being digitized, transcribed, and made searchable online in the Biodiversity Heritage Library.
Image: Letter from William Brackenridge to John Torrey, September 6, 1847. Manuscript. LuEsther T. Mertz Library, The New York Botanical Garden.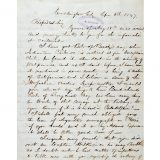 New York City EcoFlora
A project of The New York Botanical Garden, the New York City EcoFlora project engages the public in the protection and preservation of the City's native plant species. Participants assemble data on the City's flora to assist in informing policy decisions about management and conservation.