Plant Talk
My Summer Internship with Bronx Green-Up
Kaylah Paramore is a Summer Youth Employment Program Intern with Bronx Green-Up and the NYC Compost Project Hosted by The New York Botanical Garden.
---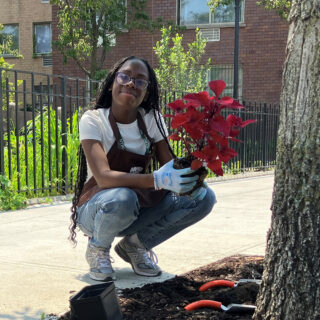 Plants have always been a part of my life for as long as I can remember—from my mom and grandma having their own array of house plants, to me taking classes here at the botanical garden when I was younger. But during the internship I participated in this summer, plants took over my world.
My work with Bronx Green-Up and NYC Compost Project Hosted by NYBG gave me plenty of new experiences this summer. From visiting a variety of city community gardens, to caring for street trees, I spent plenty of time outdoors while working as a Summer Youth Employment Program intern. Not only that, but I met so many great people through this internship. I got to hear many stories from local community gardeners, who shared their passion for horticulture.
I worked with Pam, Zoё, and Frances from the Compost Project and Ursula, Che, and Melinda from Bronx Green-Up. My job was to pitch in wherever help was needed, since the team is quite small. This ranges from office work to hands-on gardening. From weeding to planting vegetables for the next harvest, there was always something for me to do. I found it satisfying to compare the before and after of gardens after we helped fix things up. These six weeks have been nothing but enjoyable, and I can see myself going back to many gardens thanks to my team and all the incredible people I've met.
SUBSCRIBE
Enter your email address to subscribe to this blog and receive updates on new posts.