Plant Talk
Brightening Long Days on the Front Lines of a Pandemic
Stevenson Swanson is Associate Director of Public Relations at The New York Botanical Garden.
---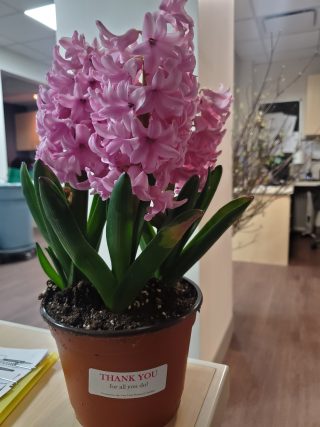 Working long hours to save people's lives in the battle against COVID-19, the doctors, nurses, and other essential employees at Montefiore and Jacobi medical centers in the Bronx have little chance to get out and enjoy spring's bright flowers these days.
So The New York Botanical Garden brought the flowers to them. Last week, 400 potted plants that were originally destined for NYBG were delivered to the medical centers, where they are now bringing some much-needed cheer to the facilities' nursing stations.
Each medical center received 200 plants, including tulips, daffodils, and hyacinths; Jacobi is sharing its flowers with North Central Bronx Hospital, which, like Jacobi, is part of New York City's municipal hospital system.

NYBG horticulturists ordered the flowers from a Long Island nursery last fall for spring displays at locations throughout the Botanical Garden. With the Garden's temporary closure, however, there were no visitors to enjoy the cheerful blooms.





Instead, the flowers are NYBG's way of saying, "Thank you for all you do," to heroic health-care workers who are on the front lines in the Bronx.
SUBSCRIBE
Enter your email address to subscribe to this blog and receive updates on new posts.