Plant Talk
Orchids and More for the Long Weekend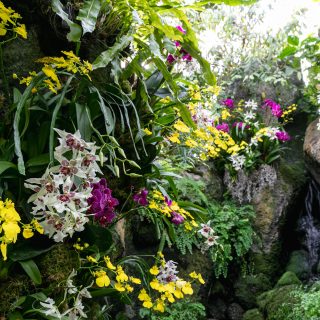 The Orchid Show: Jeff Leatham's Kaleidoscope opens to the public this Saturday, February 15—just in time for a long holiday weekend at NYBG. Join us through President's Day on Monday for a spin through this colorful, creative display of thousands of orchids arranged throughout the Haupt Conservatory, along with informative events that'll help you become a better orchid caretaker at home!
On Saturday and Sunday, get tips on orchid care at NYBG Shop during special afternoon Q&A sessions, where they'll help you find the perfect species for your home's lighting and humidity. You can also get even more in-depth this Sunday afternoon, when our orchid experts discuss the basics of orchid care during live demonstrations, sharing advice on how to choose, successfully grow, and sustain these elegant plants.
But orchids aren't the only draw at NYBG during the long weekend. The Everett Children's Adventure Garden is full of activities celebrating Black History Month. Your little ones can learn about the plants of Africa, and explore the ways they're used throughout the U.S. They'll also investigate seeds native to the African continent, explore traditional Nigerian dying techniques by crafting indigo tie-dye pouches, and create mini plant-zines inspired by the original plant bulletin author and botanist, George Washington Carver.
Elsewhere you'll find tours that highlight the best of our collections in winter, from the oldest trees of the Ross Conifer Arboretum, to the warm and varied houses of the Haupt Conservatory, and even the unique geological features to be found along the winding trails of the Thain Forest.
Enjoy winter while you can, right here in NYC's most beautiful landscape!
SUBSCRIBE
Enter your email address to subscribe to this blog and receive updates on new posts.