Art & Science: Mertz Library Building Galleries
Saturday, June 4, 2022 – Sunday, September 11, 2022
10 a.m.–6 p.m. | At the Garden
Lina Puerta: Accumulated Wisdom
The often overlooked social and cultural impacts of the American food system and humans' increasingly distant connections to the natural sources of our food are central themes of Lina Puerta: Accumulated Wisdom, a display of artwork by contemporary mixed-media artist Lina Puerta in the LuEsther T. Mertz Library Building Art Gallery.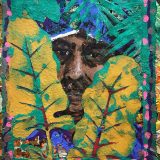 Hear from Colombian-American artist Lina Puerta
As she discusses Accumulated Wisdom, her gallery exhibit during Around the Table.
Bronx Foodways Oral Histories
"…la tierra es nuestro alimento / the land is our nourishment"

NYBG's Bronx Foodways Oral Histories Project launched in 2021 to record and preserve first-hand food narratives from urban farmers and gardeners across the borough.
What began in the 1980s as a movement to reclaim abandoned city lots with the first NYBG Bronx Green-Up community gardens has since provided places of refuge and community, and most recently, essential food hubs during the pandemic. Yet, well before the pandemic, community gardeners were addressing food insecurity.
This oral history collection houses intimate first-hand portraits of these growers, volunteers, and activists—keeping their personal journeys alive for future generations, and underscoring the importance of neighborhood gardens as centers of food, heritage, community, and social justice.